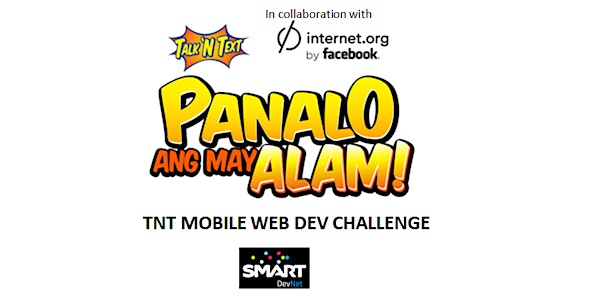 TALK 'N TEXT MOBILE DEV CHALLENGE
When and where
Location
ASPACE Manila 110 Legazpi Street, Makati City 1229, Metro Manila Philippines
Description
Mobile Web and Content Developers! Be an Internet.org content partner! Create great local mobile websites for the Internet.org program and win cash prizes and gadgets! Join the TNT Mobile Web Dev Challenge, a competition open to all mobile web developers in the Philippines. Presented by Talk N' Text, in collaboration with Internet.org by Facebook, and organized by SMART DevNet.
Internet.org's mission in the Philippines is to make the benefits of the internet more accessible and affordable to more Filipinos. SMART and Talk N' Text are the Philippine carrier partners that worked with Facebook to bring Internet.org to the Philippines. Together we can help bring digital knowledge to more Filipinos who have never gone online before! And we need more great local relevant content. Talk N' Text is supporting agricultural and eco-tourism communities and needs your help creating relevant free mobile internet sites.
Here's where you can use your talents to help out your country, and win prizes while doing it!
Here's what you need to do.
1. Come up with great web ideas related to rural Livelihood generation (agriculture, grassroots tourism, ecofishing, small enterprise, cacao farming and etc.) Now imagine turning these ideas into mobile websites and spread knowledge by making them available to the public with zero data charges. You may refer below for more information on the challenge and the process on joining the online competition.

2. Form a web development team for the project or you can go solo. Typically this means you'll need a developer, a content writer/editor, a UI designer, a visionary. Here's a link to basic technical guidelines for Internet.org for developers: https://developers.facebook.com/docs/internet-org/platform-technical-guidelines

3. Attend our PRE-EVENT on May 21, 2015 to learn more about Internet.org, developing for the platform, and know more about the challenges by listening to agriculture and eco-tourism resource experts. Pre-event details: http://bit.ly/preeventtntmobilewebdev
4. Top projects will be chosen to come back on Pitch Day to DEMO the finished mobile sites to a panel of distinguished judges. 5 projects will be chosen, and each winning team will get:
• A chance to have a coveted slot as an Internet.org partner
• PHP 20,000 in cash
• Android Phones
• Prizes and Swag from TNT, Internet.org, and Facebook
• 80USD worth of FBSTART STARTUP PACKAGE
------------------------------------------------------------------------------------------------------------------------
HOW TO JOIN
1. Register as an individual or form a team of 2-5 members. Complete the registration form via https://tntdevchallenge2015.eventbrite.com. Don't forget to submit your team name, team members and contact details.

2. Once you've registered, you can already start coding!

3. Once done, submit your entry to http://bit.ly/tntdevchallengesubmitentry. All entries must be submitted by 11:00 AM, JUNE 15, 2015.

4. On JUNE 19, 2015, we'll reveal the Top chosen teams or individuals who will join us on the PITCH DAY.

5. If you are part of the chosen finalists, we will see you at ASpace Manila on June 27, 2015 for the Live Pitch and Q&A!
CHALLENGE:
LIVELIHOOD
Build a website that will raise awareness, innovate and strengthen the livelihood of the smallholder farmers and homemakers.
Sample Usecase:
A platform to enable the fishermen, farmers and homemakers to sell and promote a variety of homegrown products, not only in the Philippines but also in other neighboring countries.

A platform that will directly benefit the communities from the ECO TOURISM sector, wherein they can promote and inform prospect tourists of their capability. (e.g. Online booking / Directory Information)

A platform wherein the users can reach out & discuss ideas to a community of related interest.

A platform where the fishermen, farmers and homemakers can be reminded of the innvoation that's readily available to guide them in their operations.

An informative platform that could be an avenue for the communities (e.g. farmers, fisherment, homemakers and others) to promote themselves and their campaigns/initiatives.
CRITERIA
NAME
DETAILS
WEIGHT
TECHNICAL APPLICATION
Must follow the technical requirements for inclusion in Internet.org found at:
-https://developers.facebook.com/docs/internet-org/participation-guidelines
-https://developers.facebook.com/docs/internet-org/platform-technical-guidelines
30%
RELEVANCE
The relevance of the project's content to the selected target community.
40%
USER EXPERIENCE
Usability of mobile website, considering both feature phone and smart phone users
30%
ELIGIBILITY
1. The challenge is open to individuals or teams with 2 to 5 members.
2. The project entry should not have been entered into a similar activity nor released in public prior to the related competition.