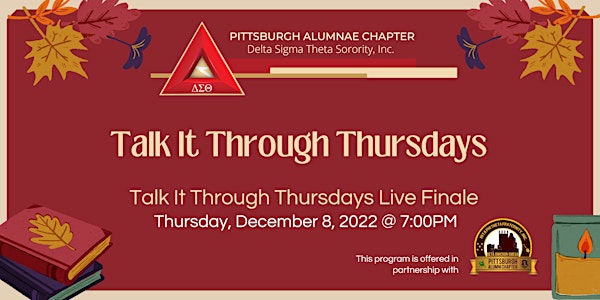 Talk It Through Thursdays - Live Finale!
Join us for the Talk is Through Thursdays Live Finale!!!
About this event
The Pittsburgh Alumnae Chapter of Delta Sigma Theta Sorority, Inc. and Beta Omicron Omega Alumni Chapter of Iota Phi Theta Fraternity, Inc. Presents Talk It Through Thursdays.
Every Thursday on November 3rd, 10th, and 17th, you will get brief tips on how to get through the Thanksgiving holiday from Dr. Channing L Moreland, EdD, LPC, NCC and Johnnie Geathers, MSW, LSW.
On Thursday, December 8th at 7PM, there will be a live finale by Dr. Moreland and Mr. Geathers where they will give an overview of topics and tips to prepare us for the Christmas holiday and the new year along with a testimony by Brenton Dorsey.