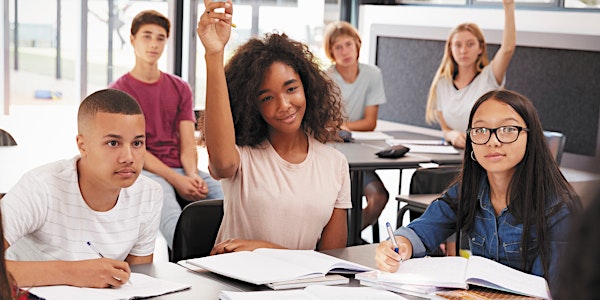 Talk by Robert Simmons III, EdD, Head of Social Impact, Micron Foundation
"They Taught Me More Than I Taught Them: What My Middle School Students Taught Me About Justice, Education Policy, and Philanthropy"
By UCR School of Public Policy
Date and time
Wednesday, November 30, 2022 · 3:30 - 5:30pm PST
Location
Alumni & Visitors Center 3701 Canyon Crest Dr. Riverside, CA 92521
About this event
They taught me more than I taught them:
What my middle school students taught me about justice, education policy and philanthropy
About the Seminar: Dr. Robert Simmons III will share how his father's incarceration and former students in Detroit and DC, inform his thinking and writing on race, and his role as Head of Social Impact for Micron Technology. Additionally, Dr. Simmons will discuss a grant to support the University of California Riverside's research-based initiative—AAPI Data.
About the Speaker: Robert Simmons III, EdD is the Head of Social Impact for Micron Technology and the Micron Foundation. As a noted scholar on education and race, American University appointed Robert a Scholar in Residence and Scholar of Antiracist Praxis in the School of Education at where he teaches doctoral courses on race & racism in society and schools, and education policy. As a member of the Diversity Scholars Network at the National Center for Institutional Diversity at the University of Michigan, Robert's research for the last 15 years has focused on racial equity and the lived realities of historically marginalized communities across multiple K-12 contexts. As the third African American man to ever become a tenured professor at Loyola University Maryland, Dr. Simmons was the founding Director of the Center for Innovation in Urban Education and Institute for Urban Catholic Education at Loyola University Maryland. As a tenured associate professor of Urban Education and Science Education, with a joint appointment in African/African American Studies, Dr. Simmons served as a Research Associate at the Baltimore Education Research Consortium at Johns Hopkins University.
Robert has authored over 50 publications, focusing on race and racial justice, as well as equity, diversity and inclusion. His next book, Interrupting the School to Prison Pipeline: African American Males as Critical Scholars and Intellectuals, is part autobiographical reflecting on his fathers' incarceration while offering insights into the educational experiences of African American males. A former middle school science teacher in the Detroit Public Schools, Robert was nominated twice as the Walt Disney National Teacher of the Year and once for the Whitney and Elizabeth MacMillan Foundation Outstanding Educator Award. As a fellow with the Woodrow Wilson Fellowship Foundation and the Fulbright Memorial Fund, Robert traveled to Costa Rica and Japan to study educational systems and conduct environmental research in the rainforest. Selected for the Outstanding Alumni Award from the College of Education and Human Development at Western Michigan University and the BE Modern Man Award from Black Enterprise, Robert has dedicated over 20 years of his professional life to supporting urban youth, their families and the community.
---------------------
PAY PARKING FOR EXTERNAL/NON-UCR VISITORS:
Please park in Lot 24 (directions here: https://goo.gl/maps/BmwiJHPXwiJUKr2z8).
You may pay for short-term visitor parking via ParkMobile - you can pay from any smart phone, mobile device, or website or call their toll free phone service at 877-727-5932 (877 PARK 932).
1. When using ParkMobile, you choose how long you want to park and pay for that amount of time.
2. Download the ParkMobile app here and register for an account using a credit card and your license plate number. If your vehicle has a temporary paper license plate, please enter the temporary number as the license plate. If there is no temporary number, enter the last 8 (eight) digits of your Vehicle ID Number (VIN). Your VIN can be found on the driver's side door or the lower driver's side of the windshield. ParkMobile accepts Visa, MasterCard, American Express and Pay-Pal.
3. Once parked in a visitor parking stall, open the app and key in your parking zone number, located near the pay station and within the table below.
4. Select the amount of time you wish to park.
5. Normal parking charges apply. Transportation Services is paying the transaction fee normally collected by ParkMobile.
6. You can opt-in to have ParkMobile send a text message 15 minutes before the expiration of your paid parking. You may select to add more time or return to your car on time.
Location: Lot 24
Zone: 2482
Learn more about UCR visitor parking: https://transportation.ucr.edu/visitor-parking#how_to_pay
About the organizer
The School of Public Policy at the University of California, Riverside is training a new generation of forward-thinking public policy leaders equipped to address the complex, interrelated challenges of poverty, disease, climate change, pollution and more. It is only one of four public policy schools in the ten-campus University of California system. It offers the only undergraduate program in public policy in the UC system, and is home to the only Master of Public Policy program at a major research university in Inland Southern California.