Hvad er blockchain og hvorfor kan du ikke komme uden om teknologien?
About this event
Beskrivelse
Med blockchain kan man besvare spørgsmål som: Ejer du maleriet, og er det ægte? Kan du garantere, at dine penge ikke har været involveret i kriminel aktivitet? Kan kunderne i din butik få svar på, om skoene er ægte, og hvad deres CO2-aftryk er? Kan du garantere at dine leverandører ikke benytter børnearbejdere?
I et land som Danmark, hvor mange produkter har en høj værdi, er blockchain særlig interessant og alle brancher, som skaber produkter, hvor troværdighed er afgørende, vil finde en række fordele i blockchains muligheder.
Skoproducenten Roccamore gør allerede takket være blockchain rede for hele processen fra ko til sko, og andre danske livsstils- og designvirksomheder som møbelproducenten Wehlers, tøjmærket
By Green Cotton og det spirende Sprouts er lige i hælene, mens Mærsk har sparet papirarbejde og gebyrer ved at sætte en stor del af verdenshandlen på blockchain.
Agenda
Velkomst
Oplæg ved Jan Damsgaard
Q&A
Tak for i dag
Jan Damsgaard
Jan er uddannet Cand. Scient i datalogi og professor på Institut for Digitalisering på CBS. Han er digital vismand udpeget af Akademiet for de Tekniske Videnskaber og medlem af Tigerrådet nedsat af Dansk Erhverv samt Kompetencerådet nedsat af finanssektoren. Jan er derudover medlem af styregruppen for SMV:digital, og han var også medlem af disruptionrådet. Jan er desuden bestyrelsesmedlem i en række virksomheder.
Jan forsker i penge, betalinger, centralbank udstedt digital valuta (CBDC) og kryptovaluta. Jan har arbejdet med bitcoins siden 2013, hvor han minede sine første bitcoins. Jan ejer kryptovaluta, men er en af de få, der ikke har tjent rigtig penge på dem (endnu).
Jan forsker også i, hvordan blockchain kan understøtte offentlige og private virksomheders ønske om at kunne autentificere ægtheden, dokumentere klimapåvirkningen samt redegøre for herkomsten af deres produkter.
Jan har også skrevet "Den digitale omstilling" og senest "Blockchain Business", som Lars Seier Christensen giver følgende ord med på vejen: "Jeg vil anbefale enhver virksomhedsleder at læse bogen"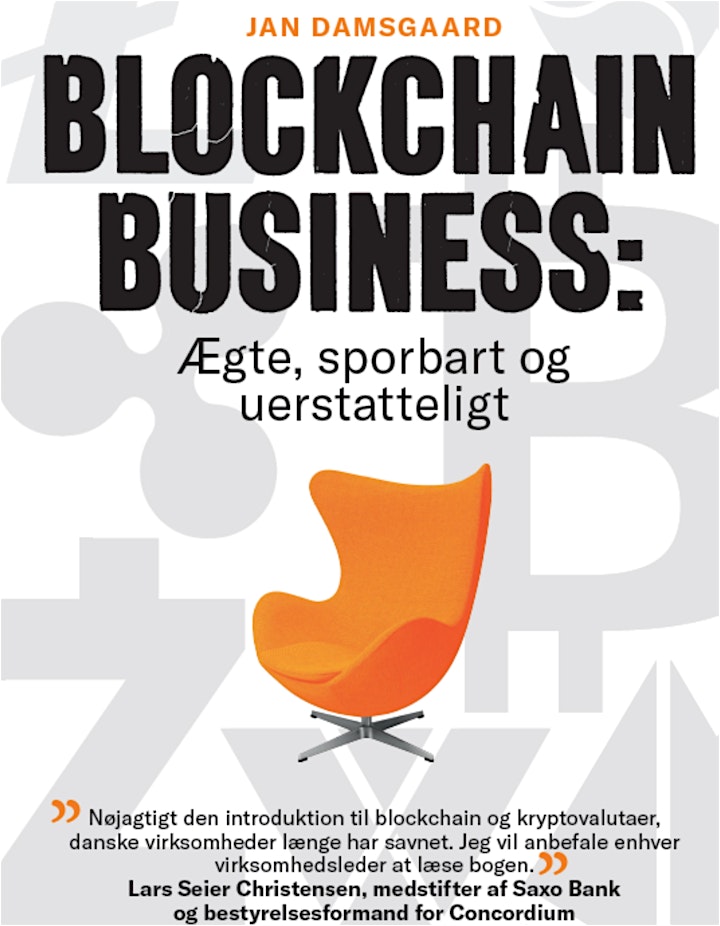 Organizer of Talk: Blockchain business - Ægte, sporbart og uerstatteligt
The Camp is Tryg's co-working space for startups and is a collaboration between Tryg, an experienced corporate player with 4 million insurance customers in Scandinavia, and Talent Garden Rainmaking, one of Denmark's leading facilitators of Entrepreneurship. 
Practical information: We are located in Tryg's headquarters in Ballerup. When you visit us for events you need to go round the back of the building (Parking South) and enter and sign in through The Camp's own entrance. If you run into problems, contact us on this number: +45 28 72 46 84