Description
What it's Like Project presents Talk About It, a performance about creative arts and mental health. The evening focuses on 5 personal stories that portray how the arts serve as a tool in mental health recovery. After the performance, audience members have a chance to ask the individuals questions about their journey and experience with mental illness: A panel discussion with audience talk-back.
Come shop at CURIOIS, our mobile charity shop. Art and curios for sale supporting artists with mental illness.
Admission is free with a $10 suggested donation. Your donation goes directly towards our What it's Like Project events. As a nonprofit 501(c)(3) organization, we are dedicated to removing the stigma of mental illness through art, education and community engagement. Your generosity helps us host events around Houston, giving voice to those living with mental illness. We couldn't do it without you.
Food and drinks availble for sale through Bohemeo's.
See you at Bohemeo's at 7:00pm on April 27th, 2019!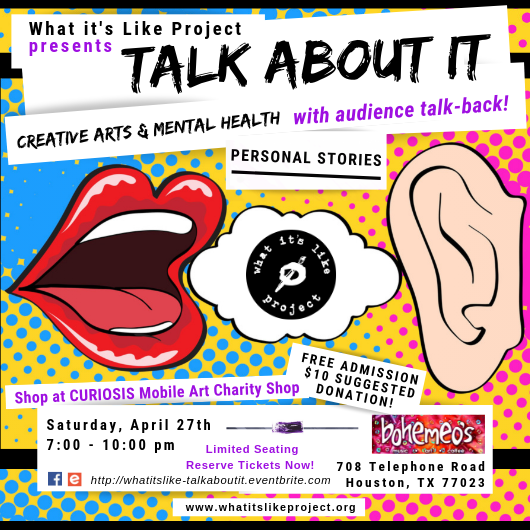 ---
Remove Stigma. Create Art.
www.whatitslikeproject.org