About this Event
This is a seated show with general admission, first-come-first-served seating. The Cedar is happy to reserve seats for patrons who require special seating accommodations. To request seating or other access accommodations, please go to our Access page.
General Admission tickets are available online, by phone, Electric Fetus, and at The Cedar during shows.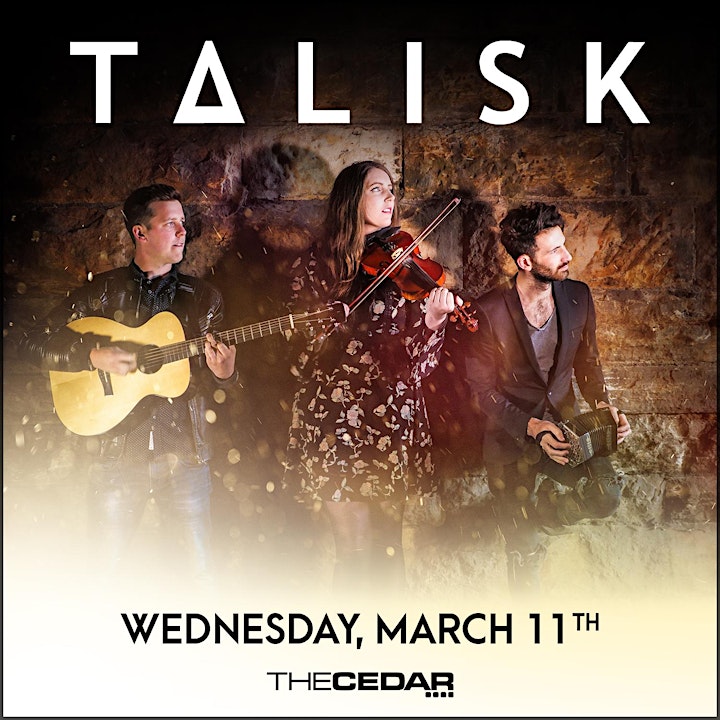 About Talisk
Barely four years since their formation, Talisk have already stacked up several major awards for their pyrotechnic yet artfully woven sound – including Folk Band of the Year 2017 at the BBC Alba Scots Trad Music Awards, and a 2015 BBC Radio 2 Folk Award.
Mohsen Amini's concertina, Hayley Keenan's fiddle and Graeme Armstrong's guitar meld seamlessly together to produce a unique force that has taken them to many corners of Europe, throughout the UK on their own headline tours, to Canada, Australia and – from 2018 – the United States. World-leading festival appearances include the Cambridge Folk Festival, Denmark's Tønder, Celtic Colours in Cape Breton, Fairport's Cropredy Convention, Celtic Connections and Brittany's Festival Interceltique de Lorient – whilst the trio's captivating signature has also been recognised by the wider industry, through official showcase selections at both WOMEX 17 and Folk Alliance International 2018.
Whilst their touring history may far bely their years, so too does their unfailing energy and stage presence. With a second album in the pipeline, alongside heavy touring throughout 2018 and beyond, theirs remains a star firmly on the ascent.
Talisk performing "Montreal" courtesy of Talisk Music's YouTube channel.
About The Northerly Gales
It's a convoluted tale involving mutual friends, random acquaintances, outright strangers, coffee shops, and pubs, the telling of which isn't even consistent among those of us who were there.  But this is known for certain - in early August 2014, those who would go on to become The Northerly Gales were together for the first time at the Dubliner Pub in St. Paul, MN for Shanty Night.
And what a fantastic ride it has been!  From garages and basements to headlining regional festivals, they've had the chance to make music for many wonderful people.  They've played all over the Twin Cities, from the Dubliner, Charlie's, and Merlin's Rest to the Celtic Junction, Irish Fair of Minnesota, and the Cedar Cultural Center.  They've travelled all around the Midwest to share their music. They've shared the stage with many wonderfully dedicated local, regional, and international musicians. And TNG released "Together," their first album, in 2017 as part of the Irish Fair of Minnesota's Irish Arts Week!
With soaring melodies and driving rhythms, TNG puts their own high-energy spin on Celtic Folk and Americana.  Innovating and original in their own ways, while respecting the traditions that have borne this music through the years.  They compose, they arrange, and they put on a rocking show.
The long and the short of it is that the Gales are always ready to rock.  Whether you're looking to tap your feet, forget your troubles, or just share a pint over some great tunes, look no further than The Northerly Gales.
The Northerly Gales performing courtesy of Northerly Gales' YouTube channel.
Performers
Date and Time
Location
Refund Policy