Description
View the livstream here: https://www.youtube.com/watch?v=NG9FNsMSeh0
Will West is a prolific tech entrepreneur with a long track record of success. In 2013, he took Control4, the leading whole-home automation company, public. Before that, he co-founded iBAHN (originally STSN), the worldwide leader in broadband services for business travelers. He has personally raised close to $400 million in private capital for his last three companies.
After taking Control4 public, Will intended to retire. So what's he now doing with a new startup in the healthcare industry?
Will founded SilverVue because he believes technology has the potential to transform healthcare. He views the startup as a chance to "do some good in the world" and "do something bigger than we've ever done before."
His interest in healthcare started with a different idea: using sensors as tools to remotely monitor elderly patients. But in exploring this idea, Will stumbled upon a gaping need. The IMPACT Act of 2014 requires post-acute care providers to report and exchange patient data, but providers often lack the tools needed to do so.
Will had found his window into healthcare.
SilverVue has a cloud-based platform that allows providers to align patient requirements for insurance, services and quality with post-acute provider capabilities to drive improved outcomes and patient satisfaction. In 2016, the startup raised a $12 million Series A led by Pritzker Group Venture Capital and has established corporate partnerships with GE Ventures, Epic Ventures and Leavitt Partners.
Through its SilverSearch platform, SilverVue has landed contracts with more than 350 hospitals nationwide in just over two years and continues to add new hospitals every month. SilverVue recently expanded its portfolio with its Check by SilverVue product line, which is a preventive care software platform that clinicians use to incorporate comprehensive wellness programs and MACRA measurement and reporting into their practice. As the healthcare industry continues to prioritize quality care over quantity, Check provides clinicians with the tools needed to be compliant and take advantage of revenue opportunities that exist for providing value-based care.
Will will join us February 20 for our next Tales From the Trenches. He will discuss his entrepreneurial journey from broadband services and home automation technology to tackling one of healthcare's most complex challenges.
Agenda:
5:30–6:00: Networking
6:00–7:00: Program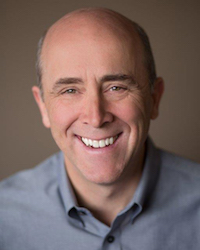 Will West is a successful technology entrepreneur who has founded and led several companies, most recently Control4 which he took public in 2014 (NASDAQ: CTRL). Will retired from Control4 to focus on SilverVue because he believes technology can transform healthcare. Will has raised more than $400 million in private capital to start his last three companies. In 1998, he co-founded STSN (now iBAHN), the worldwide leader in broadband services for business travelers, serving millions of customers in thousands of hotels. Prior to founding STSN, Will was CEO, and co-founder of PHAST Corporation. Under his leadership, PHAST became the leading manufacturer of high-end home automation equipment.

Will holds a degree in finance from the University of Utah and an MBA from the Wharton School at the University of Pennsylvania. He also holds the CFA designation. When he is not spending time at SilverVue, he is enjoying family time at Lake Powell, his favorite place on earth. Will and his wife Lisa have six children.