Description
Tonic Health began with a simple observation: patients at doctor's offices everywhere spend a lot of time filling out dull, pen-and-paper medical surveys and forms on clipboards. Where others saw an annoyance, Sterling Lanier saw an opportunity.
Clinicians, providers, and researchers have long struggled to collect data from surveys both in and out of the clinic or hospital. Borrowing product design principles from the video game world, Sterling believed he could finally solve the challenge of patient data collection. In 2010, he co-founded Tonic to do just that.
Tonic is now the leading electronic patient data collection and payments platform among large enterprise health systems, payers, and pharmaceutical companies, and is Apple's partner for patient data collection globally. The company's colorful, game-like interface and customizable survey platform has grown to support all types of data collection, including patient intake and registration, consent forms, risk assessments, patient satisfaction, patient-reported outcomes, and more.
Sterling will join MATTER for the next event in our Tales From the Trenches series, which we produce with Outcome Health and Pritzker Group Venture Capital. Outcome Health CEO Rishi Shah will interview Sterling about how he built the world's best patient data collection and payments platform.
Agenda:
6:00–6:30: Networking
6:30–7:30: Program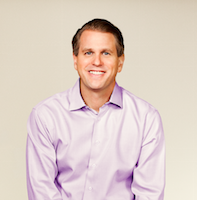 Sterling is a serial entrepreneur and a thought leader in product innovation and customer experience design. He has started more than half a dozen businesses over the past twenty years, ranging from a point-of-purchase display business, to a prenatal pill company, to a corporate teambuilding outfit – and a burrito joint that remains one of the most popular hangouts at his alma mater.
Immediately prior to Tonic, he founded and ran Chatter (now Coherency), which was the leading market research firm in the video game and television industries. As CEO and cofounder of Tonic, Sterling has applied lessons from the gaming and entertainment world to build the company into the industry standard for automating patient data collection at every point along the care journey.