Description
Dr. Rushika Fernandopulle is on a mission to reinvent primary care.
He was an internal medicine resident at Massachusetts General Hospital when he first realized there was a problem. He'd gone into medicine to help people. But, operating under a fee-for-service model, Rushika spent more time billing patients than seeing them.
In 2010, Rushika co-founded Iora Health to, in his words, restore humanity to healthcare. Foregoing the fee-for-service model altogether, Iora Health works with sponsor organizations to build value-based primary care practices from the ground up. Iora practices take a patient-centric, team-based approach to care, with an emphasis on population health. These values extend to the company's proprietary technology platform, called Chirp, which is focused on people rather than billing codes.
Payers, patients, and investors are taking notice of Iora. Medicare patients saw roughly a 40 percent drop in hospitalizations after Iora took over their care. Iora's average Net Promoter Score (a measure of customer satisfaction) is 90, while the typical primary care doctor's office hovers around 4. And, last October, Iora closed $75M in Series D funding.
Rushika will join MATTER for the next event in our Tales From the Trenches series, which we produce with Outcome Health and Pritzker Group Venture Capital. Outcome Health CEO Rishi Shah will interview Rushika about his journey as a doctor, co-founder, and CEO.

Agenda:
5:30–6:00: Networking
6:00–7:00: Program
Livestream available.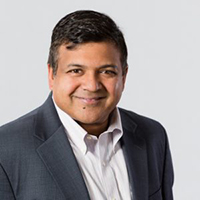 Rushika Fernandopulle is a practicing physician and co-founder and CEO of Iora Health. Based in Cambridge, Massachusetts, Iora Health is a healthcare services firm whose mission is to build a radically new model of primary care to improve quality and service and reduce overall expenditures. In 2012, Rushika was named an Ashoka Global Fellow, and he is also a member of the Albert Schweitzer and Salzburg Global Fellowships. He was the first executive director of the Harvard Interfaculty Program for Health Systems Improvement, and was managing director of the Clinical Initiatives Center at the Advisory Board Company. Rushika is co-author or editor of several publications including Health Care Policy, a textbook for physicians and medical students, and Uninsured in America: Life and Death in the Land of Opportunity. He serves on the staff of Massachusetts General Hospital, the faculty of Harvard Medical School, and the boards of Families USA and the Schwartz Center for Compassionate Care.