Description
Livestream available: click "Register" and sign up for the "Livestream" ticket. The link will be on the right rail of the confirmation page, under "Ticket Information"
Paul Magelli spent 25 years in the telecom industry, working for industry leaders and building companies of his own. He turned his attention to healthcare in 2011 when he launched Pervasive Health, since renamed Apervita. The company is solving one of the biggest problems in healthcare: how can analytics developed at one health system be exported to other systems? To do it, Paul raised more than $20 million from leading investors in Chicago and the Bay Area and has hired a world class team with healthcare and data analytics experience.
By decoupling analytics from the underlying data, Apervita empowers healthcare entities to rapidly write, use, and deploy scalable, EHR-integrated analytics. Apervita's marketplace allows healthcare institutions to buy and use analytics and data from other leading health institutions, effectively turning an institution's medical intellectual property into computable content for commercialization. Through this process, Apervita is breaking down the silos that have impeded the flow of data analytics between healthcare institutions. Paul's customers including leading health systems such as Mayo Clinic, Cleveland Clinic and John Hopkins.
Paul joins MATTER for the next event in our Tales from the Trenches series, which we produce with ContextMedia and Pritzker Group Venture Capital. ContextMedia founder and CEO Rishi Shah will interview Paul about his journey as an entrepreneur and his bold effort to transform healthcare.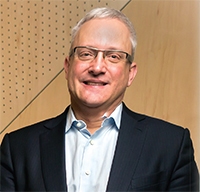 Prior to launching Apervita, Paul built telecom data analytics platform Apertio, which was acquired by Nokia-Siemens in 2008. He stayed on as head of customer insight and experience until founding Apervita. He serves on the boards of directors for a number of data analytics and communications companies, including Velocent Systems, Zettics, Vasona Networks, and BroadSoft.