Description
Livestream at: https://www.youtube.com/watch?v=-H3rqCX37gs
Brad Smith launched Aspire Health out of Nashville in 2011, partnering with former Senate Majority Leader and federal healthcare policy shaper Bill Frist. Aspire shot out of the gate, expanding its operations to 6 states within two years, and now operates in 22 states. Aspire is a darling of the Nashville health technology scene, having raised more than $50M, most recently in a $32M Series D investment from GV (formerly Google Ventures). Previous investors include Chicago's Sandbox Industries.
Aspire curates the healthcare experience to better support patients with serious illnesses. Each patient is assigned a team of specialized clinicians who develop an individualized plan for managing symptoms and diseases, communicating with family members, and coordinating in-home care and support services. Aspire uses a predictive algorithm to identify patients who may benefit most from their palliative care services.
Under CEO Brad Smith's leadership, Aspire Health is proving it possible to improve the quality of care for people with serious illnesses while simultaneously lowering costs.
Brad will join MATTER for the next event in our Tales from the Trenches series, which we produce with Outcome Health and Pritzker Group Venture Capital. Outcome Health CEO Rishi Shah will interview Brad about how Aspire Health is changing the way we think about and experience palliative care in America.
Agenda:
5:30–6:00: Networking
6:00–7:30: Program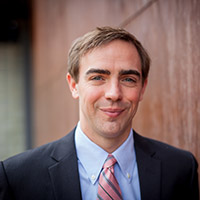 Brad Smith co-founded Aspire Health in 2011. The healthcare company is the largest provider of non-hospice, community-based palliative care in the US, providing over 100,000 home visits per year.
Prior to founding Aspire Health, Brad served as chief-of-staff at the Tennessee Department of Economic and Community Development, helping recruit new companies to the State of Tennessee. Before that, he served at the founding executive director of the Tennessee State Collaborative on Reforming Education (SCORE) and spent time working in the White House and at McKinsey & Company.