Tales from the South Dinner and a Show: THURSDAY, January 31, 2013

Thursday, January 31, 2013 from 5:00 PM to 8:00 PM (CST)
Event Details
Dinner and a Show
Tales from the South
THURSDAY, January 31, 2013
Tin Roof Project #30

featuring Simeon Wright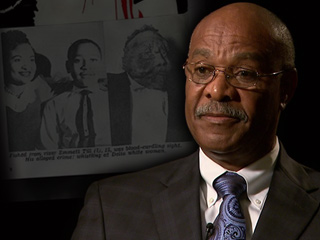 On August 28, 1955, during the Jim Crow era, Chicago teen Emmett Till (14) was kidnapped, tortured, and killed for whistling at a white woman in the segregated South while visiting his family in Money, Miss. Emmett's younger cousin, Simeon Wright, who was 12, watched as two men abducted the boy. Those responsible were never convicted.

Emmett's mother insisted on an open casket so that the world would see the mutilation. A photo of Emmett's mutilated face was published, and an African American woman named Rosa Parks was outraged by it. Two weeks later, she refused to give up her seat on an Alabama bus. Till's murder became a symbol of and a rallying point for the civil rights movement, and is widely credited with galvanizing it. Till's family recently donated the casket in which he was buried to the Smithsonian's National Museum of African American History and Culture.
It took more than 50 years for Simeon Wright to talk about his cousin's death. He shared his pain in his book Simeon's Story: An Eyewitness Account of the Kidnapping of Emmett Till (Lawrence Hill Books, an imprint of Chicago Review Press, January 2010, ages 12 & up). It is a coming-of-age memoir and the very first eyewitness account of the kidnapping that adds a vital contribution to America's civil rights history.
Simeon Wright is a popular public speaker at schools, churches, and cultural institutions throughout the country. He lives in Chicago, Illinois.  This show is made possible by William F. Laman Public Library in conjuction with the National Endowment for the Humanities' traveling exhibit "For All the World to See: Visual Culture and the Struggle for Civil Rights." 


Live Music by Finger Food with Steve Davison and Micky Rigby
and Bluesman Mark Simpson
Tickets should be purchased as a table so that you sit with whom you would like to. So, if you have 6 people in your party, you should purchase all 6 tickets at one time under one person's name.
Tickets are not refundable.
When & Where

Starving Artist Cafe
411 Main Street
N Little Rock, AR 72114-5327


Thursday, January 31, 2013 from 5:00 PM to 8:00 PM (CST)
Add to my calendar
Organizer
Tales from the South
Tales from the South Radio Show features Southerners reading their own true stories in front of a live audience during dinner at various restaurants and venues throughout Arkansas and the South. We also feature live music. www.talesfromthesouth.com
Tales from the South Dinner and a Show: THURSDAY, January 31, 2013