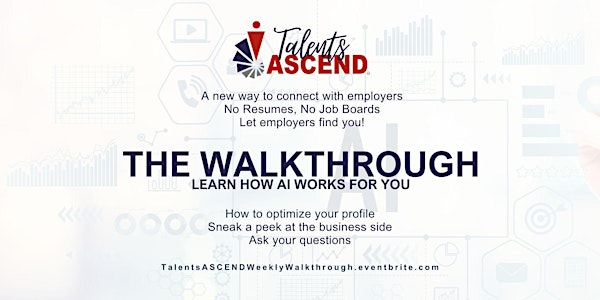 Multiple dates
Talents ASCEND: The Walkthrough
Learn how to optimize your candidate profile, sneak a peek at what employers see, and ask your questions.
Date and time
October 2, 2020 · 9am - December 28 · 8:30am PDT
About this event
Join the Future of Hiring
We know time is important. The less time it takes someone to find their next career, the better it is for them, their family, and their community. Talents ASCEND is open to ALL candidates looking for their next career.
Our AI Powered platform removes the barriers of a resume and applying for jobs online. Our skills matching program facilitates connections using unique data sets and an algorithm. Here's how our program works:
Candidates Create a FREE skills profile based on your experience and/or occupation, education & training, licenses, and certifications.
Complete your career preferences to indicate your desired work location, availability, and salary requirements.
That's it. Employers' job profiles will be matched with you based on your skills and traits. They will contact you for an interview.
For our transitioning service members and Veterans, we have translated thousands of military occupations into the transferable skills employers are looking for.
How We Got Here
Talents ASCEND started as Veterans ASCEND by a US Navy Veteran with 30 years of HR experience. Using her transition out of the military, and subsequent work in the Human Resources field, she learned a few things:
People may have a hard time translating their experience into a resume
People spend countless hours on job boards submitting resumes and never receive feedback.
Employers across the country can have a hard time connecting with the most skilled talent.
There is no "right" way to do a resume, and they are subjective.
Factor in the limited time HR departments have to review resumes, and many people can be quickly overlooked for positions where they can use their skills to help a business succeed.
The Talents ASCEND model addresses these hurdles by reversing the hiring process, decreasing time to hire, and allowing the employer to see how the veteran's skills fit across the organization.
Our service is Free to all Candidates
Questions?
Email us at FindTalent@TalentsASCEND.com for more information.
About the organizer
We know how much time is wasted wading through unqualified applicants and hundreds of resumes.
Resumes that have been curated to look like a job description but do they really have the skills?
So we built a custom translation platform that translates experience into a skills profile and then matches employers and candidates on true skills.
No resumes.
No searches.
No applying first.