Description
Growing Pains: Hacking Your Hiring Hurdles
When hiring for rapid growth, recruiters, hiring managers and HR departments face massive opportunity and unique challenges all at once. Some of these challenges could include: sourcing, interviewing, hiring, negotiating with top candidates - all in a short period of time. At the same time, it is important not to compromise standards. Every person you add to your company has an impact on your company culture and brand. We invite some of the most innovative talent professionals to a panel to discuss the biggest obstacles involved when hiring to scale and how to creatively apply the newest techniques and methods to overcome them.
---
Meet our Panelists: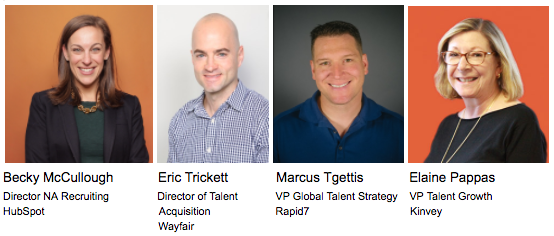 ---
Talent Hackers is an event series for the high growth talent and recruitment community who use technology, data, and creativity to hack the talent challenge. It's for people who believe tha the current recruitment industry is totally broken for fast paced, tech driven, budget conscious startup companies. CVs, job descriptions, interviews, contract recruiters, sales oriented incentives. None of these things make sense for multi-disciplinary startup teams. The brightest entrepreneurs recognize this and are increasingly turning recruitment on its head.
We're calling these people 'talent hackers.'
These events are locally organized and free to attend - providing a community of speakers, resources, new ideas and discussions on how to effectively hire and build amazing teams - fast, and on a budget. Join us for drinks, networking and an engaging panel.