About this Event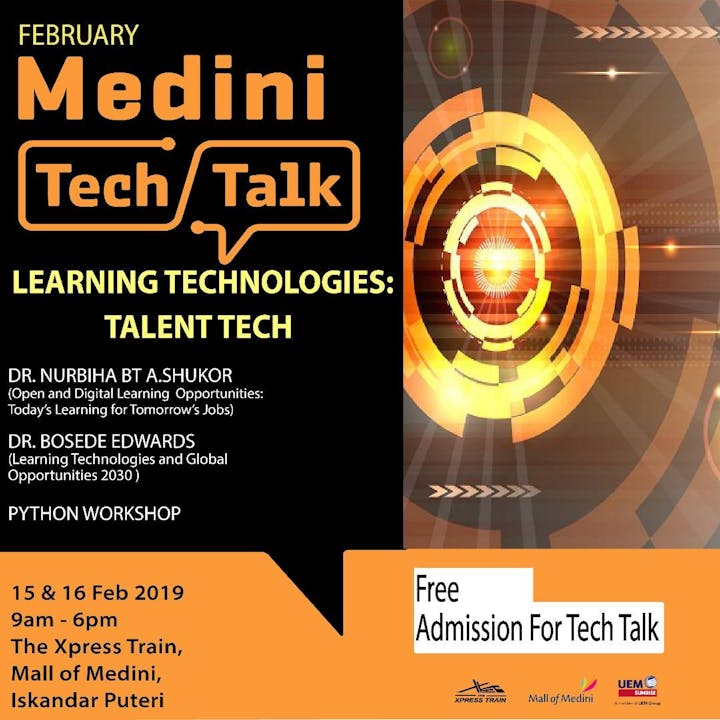 An informative and educational event to promote talents of the technology industry. Featuring talks about education and technology. Come and learn about Python Programming from experienced instructors!
Date: 15-16 February 2019 (Fri & Sat)
Time : 9am – 6pm
Place: The Xpress Train, Mall of Medini
Featuring: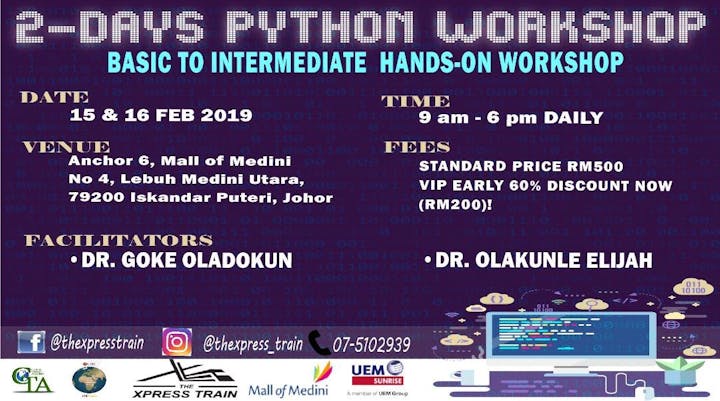 1) First in Johor Bahru INSTRUCTOR-LED HANDS-ON WORKSHOP ON PYTHON PROGRAMMING.
Click here for complete information
Focus of Training: 2-Days Python Basics to Intermediate Hands-on Workshop Session (16HRS workshop)
It is obvious that future illiterates will be individuals without programming skill.
Despite global unemployment, the demand for programmers remains unmet.
Python has a unique and unmatched ecosystem of open source libraries as a ladder to careers in data science.
Big corporations like Yahoo!, IBM, Google, Nokia, and Disney, as well as smaller ones continue to need Python programmers. Python remains topmost on the list of the most in-demand programming language.
Timetable
15/2/2019 (Fri)
8am - 9am: Registration
9am – 12pm: Python Workshop (morning session)
12pm – 1.30pm: Lunch
1.30pm – 6pm: Python Workshop (afternoon session)
16/2/2019 (Sat)
8am - 9am: Registration
9am – 12.30pm: Python Workshop (morning session)
12.30pm – 2pm: Lunch
2pm – 6pm: Python Workshop (afternoon session)
The Instructors/Trainers.
1. Olagoke Oladokun (Ph.D), Institute of Future Energy,Universiti Teknologi Malaysia (UTM)
Dr Olagoke Oladokun is a university lecturer, a researcher at University Teknologi Malaysia and seasoned programmer of 18 years. He started out in programming with Pascal and move on to Visual C++. Since then, he has developed apps with C# on Net Framework and Python on both Windows and Linux platforms. Dr. Olagoke is proficient in seven (7) programming languages.
2. Olakunle Elijah (PhD)
Dr. Olakunle Elijah is a researcher at the Wireless Communication Center (WCC), University Teknologi Malaysia. His research interests are Internet-of-Things (IoT), Embedded Systems and wireless communications. He is a trainer, instructor and programmer. He is proficient in C and MatLab. Dr. Elijah is the founder of Free Python Course (FPC) https://app.schoology.com/course/1469290889/material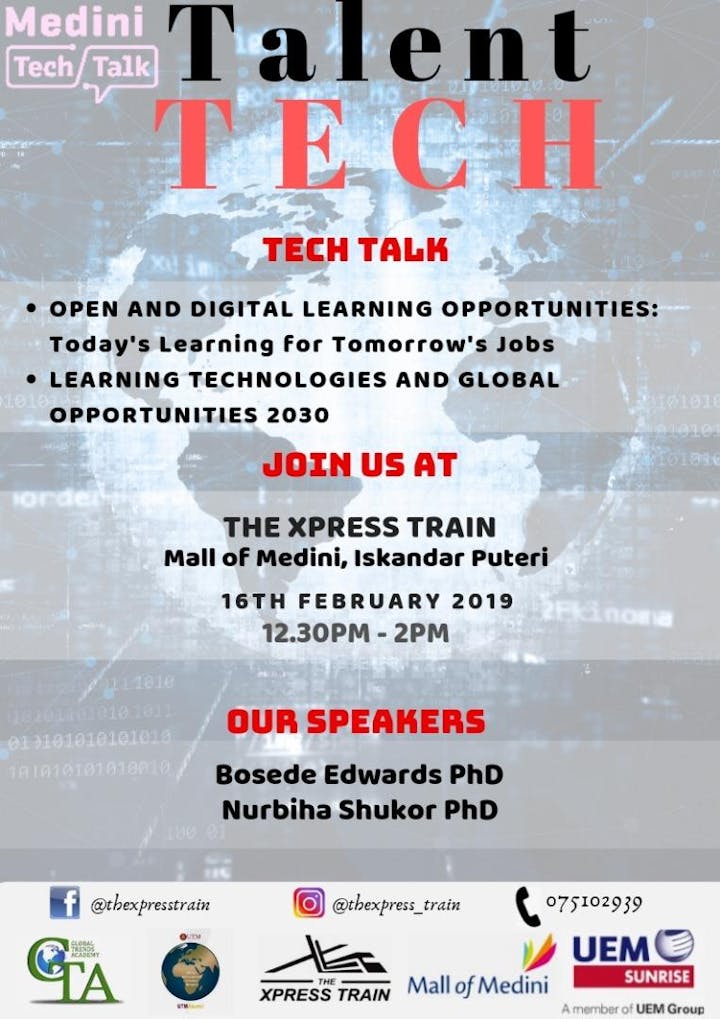 2. Talent Tech Talks
16/2/2019 (Sat)
12.30pm –2.00pm: Talent Tech Talks
Talk 1:
Title: Open and Digital Learning Opportunities: Today's Learning for Tomorrow's Jobs
Imagine yourself unemployed, and having to compete for a job in todays' world. Do you think you can survive? Now, imagine our kids having to face all these challenges to be employed in the future. Do you think they can survive? How can we equip ourselves and our kids with the proper kind of education? How can we leverage on digital tools and technology for better preparation for the job of tomorrow? This talk will briefly describe how.
Speaker:
Dr. Nurbiha A. Shukor
Open Education Resource Manager
Center for Teaching and Learning,
Universiti Teknologi Malaysia (UTM)
Senior Lecturer,
Department of Educational Science, Mathematics &Creative Multimedia,
Faculty of Education, UTM
Talk 2:
Title: Learning Technologies and Global Opportunities 2030
The 2030 agenda for sustainable development focuses on 5Ps. It is designed to leverage on 17 interlinked SDGs and 169 specific targets. Education is pivotal to more than one of these goals. How might technology-enhanced learning (TEL) as a key concept in 21st century education contribute to the achievement of the related goals? What opportunities are there and what potential challenges do we face?
Speaker:
Dr. Bosede Edwards
Dr. Bosede is a researcher, teacher, trainer, instructional designer, and serial entrepreneur. She has PhD in Educational Technology with sound knowledge of theories and methods for designing, developing and delivering successful instruction as well as running businesses. She also has a background in the sciences with Bachelor and Masters in Organic Chemistry. As an educational researcher, she is committed to technology-enhanced learning approaches to educational improvement and process development. She currently leads research on the classroom of the future, focusing on emerging learning technologies for next-generation classrooms. Dr. Bosede has experience in business start-up and leadership, and she is passionate about teacher education and development.
Looking forward to see you here!
Any enquiry please email to enquiry@thexpresstrain.com or call us at 07-510 2939.
Thanks.