Talent Management - Working Across the Generations by The Philadelphia CFO Leadership Council

Thursday, May 12, 2016 from 7:30 AM to 10:00 AM (EDT)
Event Details
Talent Management - Working Across the Generations
Presented by
The Philadelphia CFO Leadership Council
Thursday, May 12, 2016 
7:30am - 8:00am - Breakfast & Networking
8:00am - 9:30am - Program
The offices of Ballard Spahr LLP
1735 Market Street, Philadelphia, PA
Program Description
How do you motivate different generations? What are the specific needs of each generation and how do you bridge the gap for one "workplace culture"?
In the current economic climate, CFOs and other business leaders consistently identify building teams as the greatest challenge they face.  Employees have many career options, and creating and maintaining a high performance team has become increasingly challenging in the complex global business environment.  We have recruited a panel featuring several of Philadelphia's best business leaders to discuss the challenges you will face and offer pragmatic strategies for building high performance teams.

Learning Objectives

Learn how to motivate different generations
Bridge the gap of the "culture"
Harness the talent of millennials 


Needs and expectations of every generation

Speakers: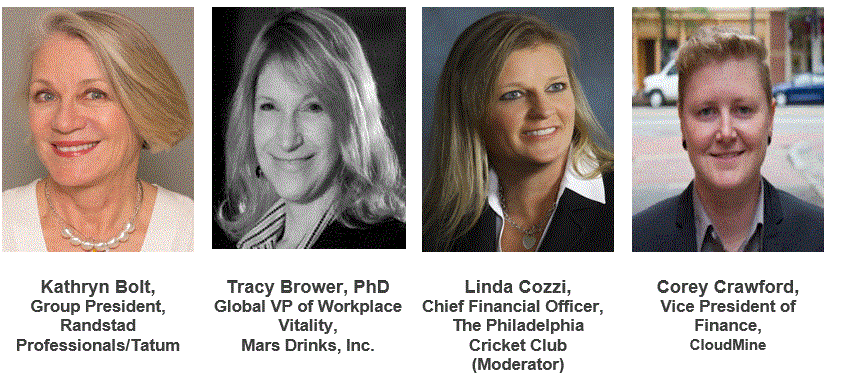 CPE Information:
Program level: Intermediate

Field of Study: SPECIALIZED KNOWLEDGE AND APPLICATIONS RELATED TO SPECIALIZED INDUSTRIES

Recommended CPE: 1.5 CPE

Program Prerequisites: None

Advanced Preparation: None

Delivery Method: Live/Group 
Registration:
To register for this program, simply complete the form above. All CFO Leadership Council members may attend this program for free. Non-member senior financial executives who are CFOs, Vice Presidents of Finance, Directors of Finance and Controllers (or the like) are welcome to attend this program for $60.
Please note that service providers or any executives who are not senior financial executives (CFOs, Vice Presidents of Finance, Controllers, Directors of Finance, etc.) will not be admitted attendance to this event. The CFO Leadership Council reserves the right to decline any registration.
More Information:
For more information about this program or The CFO Leadership Council, please contact Caroline Boyce, Marketing Director, Philadelphia Chapter at Caroline@cfolc.com
About our Speakers:
Kathryn Bolt, Group President, Randstad Professionals and Tatum, Randstad US
With more than two decades in the staffing industry, Kathryn serves as group president overseeing the Randstad Professionals and Tatum business lines. In this role, Kathryn provides strategic direction for finance and accounting, human resources, sales and marketing, legal and executive search capabilities. Most recently, Kathryn served as Senior District President for a large staffing firm where she oversaw one of the company's highest revenue and profit-generating districts in North America. Kathryn is a Board member of The Career Foundation, a nonprofit organization dedicated to linking the resources of private sector companies, education and government to help all members of the community make the transition into employment.
Tracy Brower, PhD, MM, MCR, Global VP of Workplace Vitality, Mars Drinks
Tracy Brower, PhD, MM, MCR is a work environment sociologist and Global VP of Workplace Vitality for Mars Drinks, a segment of Mars, Inc. that is 100% dedicated to the workplace. Tracy is the author of Bring Work to Life by Bringing Life to Work: A Guide for Leaders and Organizations which focuses on work-life integration and abundance. Over her career, Tracy has had the opportunity to engage with a wide range of corporations including many of the Fortune 500, as well as a variety of educational and health-care organizations. She is a three-time recipient of the CoreNet Luminary Award for speaking and a recipient of the University of Houston Alexander Real Estate Innovative Practices Award. Tracy has also taught university courses in management and organizational effectiveness. Tracy's work has been featured in Leadership Excellence, The Wall Street Journal, Fortune.com, Forbes.com, Inc. Magazine, and more.
Mars Drinks creates great-tasting moments at work and is a 100% workplace dedicated segment of Mars, Incorporated. Mars Drinks supports businesses who want to provide great working environments for their people by creating Workplace Vitality™ at the intersection of workplace engagement, collaboration, productivity and well-being.
Linda Cozzi, Chief Financial Officer, The Philadelphia Cricket Club
Linda Cozzi has over 20 years of finance and accounting experience in various fields, including hospitality, consumer manufacturing, and non-profits. Linda currently serves as the CFO of the Philadelphia Cricket Club, Inc., a $20 million organization with 300+ employees and three facilities which host seven sports plus F&B operations. In 2015, Linda was named CFO of the Year for the Small Company Category by the Philadelphia Business Journal.
Prior to the Philadelphia Cricket Club, Linda also served as the CFO for the Cherokee Town & Country Club, Inc.; Assistant Controller for the Sheraton Atlanta Hotel; and Director of Finance for the Druid Hills Golf Club. Linda has also served in various roles of the Georgia Chapter of Hospitality Finance & Technology Professionals, including President (2010-2011) and Secretary (2008-2010). Linda received her MBA, with a concentration in Finance and her BS in Accounting from the University of Tennessee at Chattanooga.
Corey Crawford, Vice President of Finance, CloudMine
Corey currently serves as the Vice President of Finance at CloudMine, where she manages all aspects of the finance and accounting function of the high-growth, venture-backed start-up. Prior to CloudMine, she shaped cross-functional corporate strategy and established key metrics and processes to ensure operational efficiency at, technology start-up, Artisan Mobile. Corey completed her MBA at Temple University, where she concentrated in Strategic Management. During her tenure, she led the Fox Graduate Student Association through the first-of-its-kind rebranding campaign as the association's COO. Corey has an established track record of leading small companies through rapid growth towards success. During her seven-year tenure at FierceMarkets, an online media start-up, she created and led a finance, accounting and HR department while the company quadrupled in size. Corey excels in financial modeling and data analysis and has a knack for foreseeing problems with a big picture perspective, as well as drilling down into the details to develop strategic solutions. 
When & Where

Ballard Spahr LLP
1735 Market Street
Philadelphia , PA 19081


Thursday, May 12, 2016 from 7:30 AM to 10:00 AM (EDT)
Add to my calendar
Organizer
CFO Leadership Council ~ Membership
The CFO Leadership Council is a community dedicated to empowering its members to grow and thrive, no matter the challenge in front of them. We value every senior financial executive who walks through our door or engages us online.  Our events feature relevant speakers, panel discussions and conversations that spark new ideas, practical solutions and tangible takeaways to solve your most pressing issues. Each of our individual chapters offer a confidential, 'sales free' setting to allow you to talk freely and ask real questions of your peers. Our events are full of passionate, energetic senior financial executives who are there to collaborate and empower.
Talent Management - Working Across the Generations by The Philadelphia CFO Leadership Council