Description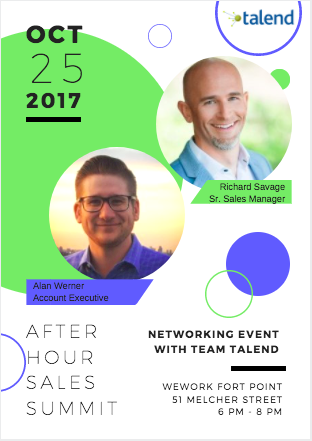 Join us for an informative after hours networking event at Talend and learn how to excellerate your sales career from Richard Savage, Sr. Sales Manager and Alan Werner, Account Executive. Richard has managed many sales professionals and knows what it takes to get yourself to the next level. Alan started at Talend in sales development and has since moved into management and now field sales.
We will cover:
How to earn $200k OTE by 2020
What sales managers look for when promoting from within and hiring
How to grow your sales career
Questions from you
Food and drinks will be served. We are looking forward to seeing you soon! Please regester if you are attending or reach out directly to Meghan Bancroft to hear more about sales opportnuties at Talend mbancroft@talend.com.
Check out MtvU highlighting Talend in their Occupational Therapy web series - https://youtu.be/33rnCJ6phts