Actions and Detail Panel
Tale of Two Cities: Equity and Opportunity
Mon, October 17, 2016, 4:00 PM – 8:00 PM CDT
Sales Have Ended
Registrations are closed
Thank YOU! We look forward to creating an equitable Houston together!
Sales Have Ended
Registrations are closed
Thank YOU! We look forward to creating an equitable Houston together!
Description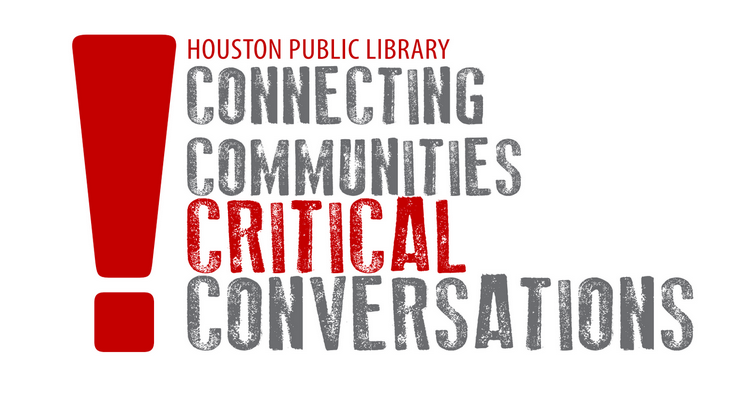 The Tale of Two Cities: Equity & Opportunity Summit, timed to coincide with the International Day of Poverty on October 17th, is an extension of the Houston Public Library's Civic Engagement Series, "Connecting Communities, Critical Conversations" created by Larry Payne.

This summit is designed to convene people across sectors to explore equity and catalyze unique efforts towards a more inclusive Houston. Our goal is to examine the standards of social impact by viewing this work through an equity lens, so that the systemic biases embedded in our society are not reinforced in our solutions.
We will do this by:
1. Exploring equity and its value, as well as quantifying it
2. Discussing current local equity-focused models and how they work
3. Forming work groups to identify issues, determine actions, and implement next steps

Please come ready to share ideas and explore new collaborations to help create an equitable Houston.


---

Opening
Houston 2036*: Celebrating 200 Years
1. What does an equitable Houston look like?
2. What opportunities are needed to get there?
3. What are you doing to ensure equitable realities?

Rhea Brown Lawson, Executive Director, Houston Public Library
Bob Harvey, President, Greater Houston Partnership
Maria Carrillo, Editor, Houston Chronicle
Larry Payne, Strategic Partnerships, Houston Public Library




Keynote Speakers

Teta Banks, President Houston Chapter of United Nations Association
Stephen Klineberg, Founding Director, Kinder Institute
Sharon Washington, CEO, TWO Research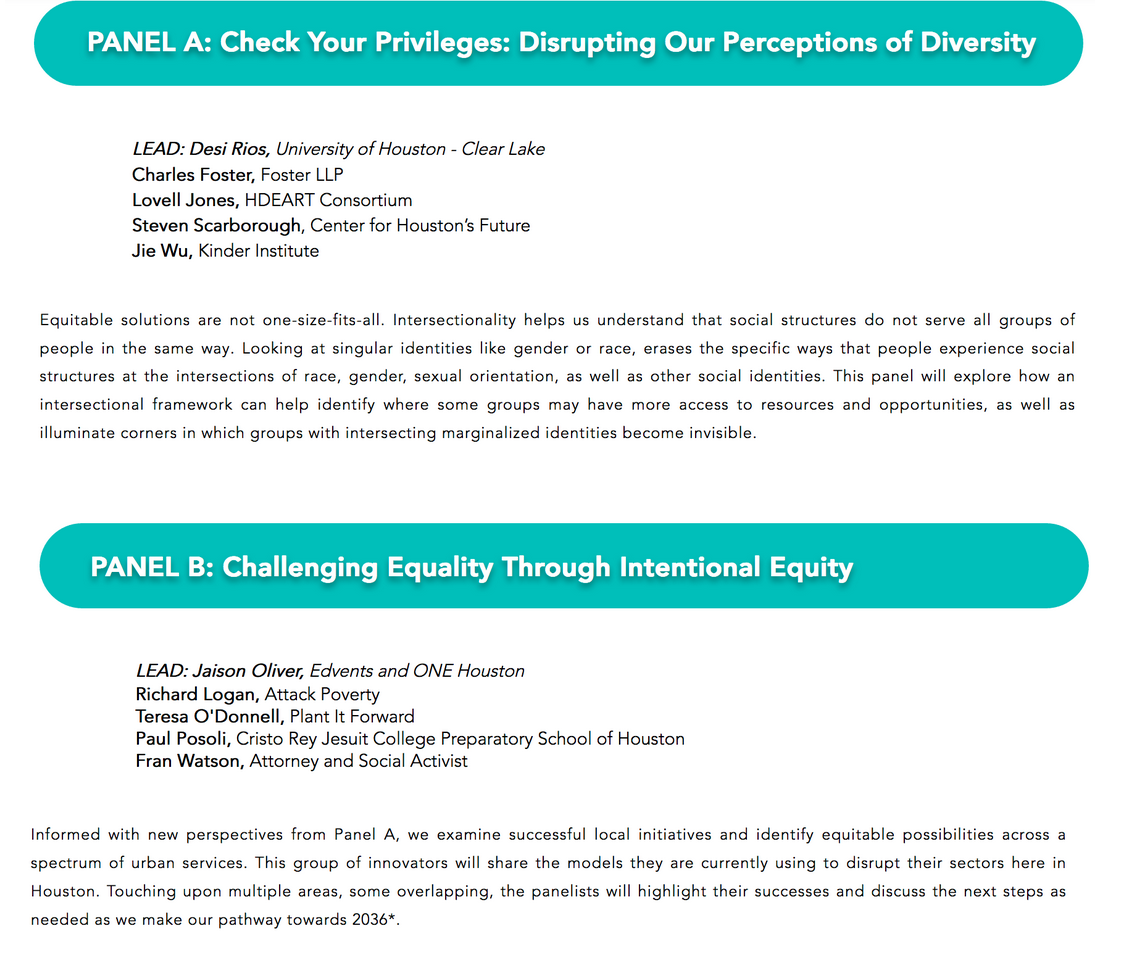 Share Out & Closing
Return to larger group for Closing Remarks.



SPECIAL THANKS TO: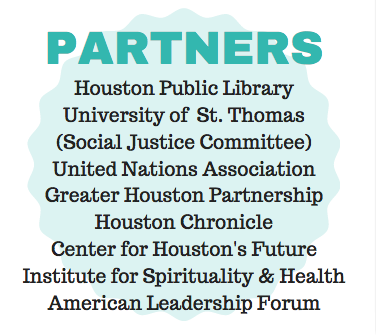 Committee Chair: Sharon Washington

Planning Committee: Roberto LaCarra, Katy Atkiss, Desi Rios, Jaison Olivier, Kristi Rangel, Krista Coleman, Tonyel Simon, Niki Vrani Poonawala, Valerie D. Jackson, Michael Harris, Nicole Walters, Linda Flores Olson, Larry Payne, Dan Snare, Maya Ford

Event Coordinators: Lenny Williams, Dyla Gutierrez UST

FAQs
Will there be refreshments provided?
Light food and beverages will offered during the event.

Where on campus is the Jerabeck Center?
The Jerabeck Center is building 30 in this map.

What are my transport/parking options getting to the event?
Moran Parking Center
The Moran Parking Center is located at the corner of West Alabama and Graustark streets (enter on Graustark). Parking at the Center is available to all students, employees and visitors 24 hours a day.
Pay machines are located at each exit and accept $1 bills, $5 bills, quarters and credit cards. Rate: $5 Per Exit

Street Parking
There is ample street parking available on and around campus. Be sure to follow all parking regulations and signs. Street parking is monitored by the City of Houston.
Bicycle Regulations
The University promotes bicycling for ease and the health and environmental benefits. For the safety of the University community, we have adopted the following regulations:
Bicycles must be parked only at bicycle racks.
Bicycles may not block pedestrian traffic nor be chained to stairwells or arcade columns.
Violators may have their bicycle chained ($25 removal fee) or removed by the University Police Department.
The University will not be held responsible for damaged locks.
Riding a bicycle on principal pedestrian sidewalks, through building walkways (inside or outside), or other pedestrian paths is not permitted.
Riders are expected to dismount when using pedestrian-only walkways.
University Police Department bike patrol officers are exempt from these limitations when performing official duties.
Date and Time
Location
University of St. Thomas
4000 Mt. Vernon St.
Jerabeck Center, Scanlon Room
Houston, Texas