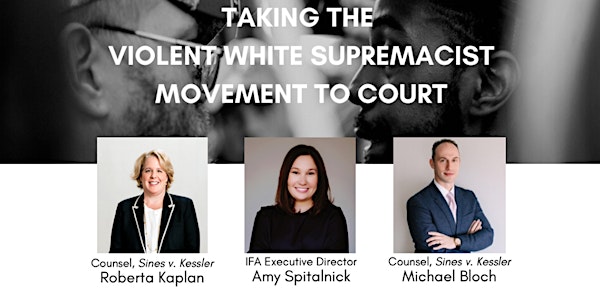 Taking the Violent White Supremacist Movement to Court
By Integrity First for America
Date and time
Tuesday, April 28, 2020 · 6:30 - 8pm EDT
Location
Online via Zoom Conference
Description
Meet the leaders taking the violent white supremacist movement to court. Integrity First for America is fighting racism, anti-Semitism, xenophobia, and other forms of hatred in the courts. Meet their Executive Director, Amy Spitalnick and attorneys Roberta Kaplan and Michael Bloch, who are leading the Sines v. Kessler lawsuit against the neo-Nazi groups that gathered in Charlottesville.
Cosponsors include The 14th Street Y, ADL - NY/NJ, CLAL - National Jewish Center for Learning and Leadership, Congregation Beit Simchat Torah, Cordoba House, East End Temple (host), The Interfaith Center of New York, Middle Collegiate Church, Park Avenue Christian Church, the Religious Action Center of Reform Judaism, SAJ - Judaism That Stands for All, and the Village Temple.
*NOW ONLINE ONLY* Those who register will receive information about how to partake in the event.
About the organizer
Integrity First for America (IFA) is a nonpartisan nonprofit organization dedicated to holding those accountable who threaten longstanding principles of our democracy—including our country's commitment to civil rights and equal justice.