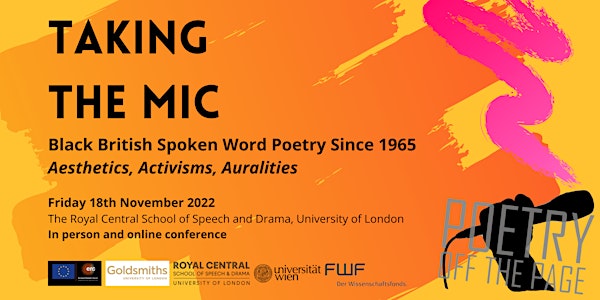 Taking the Mic: Black British Spoken Word Poetry Since 1965
A free one day conference celebrating Black British poetry in performance, hosted by Poetry Off the Page, Goldsmiths and RCSSD
When and where
Location
Royal Central School of Speech and Drama Eton Avenue London NW3 3HY United Kingdom
About this event
Event Description
Black British* poets have long pushed the aesthetic and sonic boundaries of performance in spoken word, creating a compelling public voice for poetry. The legacy of this work both on and off the page follows diasporic routes in and out of Britain from Una Marson to James Berry, from the Caribbean Artists Movement to Linton Kwesi Johnson, Jean 'Binta' Breeze, John Agard, and Roger Robinson through to the twenty-first century poets Patience Agbabi, Jay Bernard, Anthony Joseph, Raymond Antrobus, Warsan Shire, and Caleb Femi to name a few. While fashioning electrifying performance personae, Black British spoken-word poets have equally claimed, redefined, or rejected the term 'performance'.
To what degree does Black British spoken word poetry offer an ongoing 'avant-garde'? From the Black People's Day of Action to #BLM, to decolonising the curriculum, spoken word poetry plays significant roles in Black activism; bears witness to contested and forgotten histories; and imagines new futures, communities, and belongings. To rhyme, rap, or speak of poetry performance, its lyrical forms, beats, and bars is also to invoke the voices of Black British poets and collectives across Britain's geographical breadth. From Grace Nichols's meditations on the English countryside, to the Mancunian Blackscribe Black feminist poetry collective; Khadijah Ibrahiim's poetic histories of Chapeltown and Harehills, and Benjamin Zephaniah's accounts of Brummagem; to Eric Ngalle Charles's negotiations with his adopted 'home' in Wales to Jackie Kay as Scotland's Makar; or Caleb Femi's testimony to North Peckham— these locales, regions, and their nations reveal the multiple heritages of Black British spoken word poetry's performance communities.
This landmark one-day conference invites participants to 'take the mic' and explore Black British poetry in performance, tracing its aesthetics, activisms, and auralities. We will hear keynote addresses from Jay Bernard, the 2018 Ted Hughes award and 2020 Young Writer of the Year award winner (in person), and Carolyn Cooper, Professor Emerita of the University of West Indies, Mona, Jamaica (online).
The conference is followed by a reception, hosted by Central's Principal Josette Bushell-Mingo OBE, and an evening of poetry performance.
* Black British indicates a scope, for ease of reference, to the work by poets of African or Caribbean descent who live(d) and/or published/performed a significant body of work in Britain, in a context of literary history.
Provisional Schedule
08.30-09.00 – Registration and refreshments
09.00-09.15 – Welcome
09.15-10.15 – Panel 1
10.20-11.35 – Panel 2
11.40-12.40 – Keynote Address: Jay Bernard
12.40-13.40 – Lunch
13.40-14.55 – Panel 3
15.00-16.15 – Panel 4
16.15 – 16.30 – Break
16.30-17.45 – Panel 5
17.50-18.50 – Keynote Address: Carolyn Cooper
18.50-19.00 – Closing remarks
19.00-20.15 – Evening reception and performances
Organising Committee
Dr Deirdre Osborne FRSA, Goldsmiths
Dr Emily Kate Timms, Poetry off the Page, University of Vienna
Josette Bushell-Mingo OBE, Royal Central School of Speech and Drama
Conference Assistant, Shannon Navarro, Royal Central School of Speech and Drama
Online attendance option:
There are options for online attendance. Please register for an online ticket and details will be sent to you closer to the event.
Please note that a photographer will be present at this event. Attendees can opt out of being photographed.
Upon registration you consent that any data you submit will be saved by the organisers until the end of 2022. Your email will be used for the limited purpose of informing you about updates and news relating to the conference and will not be passed on to any third parties.
For further information and queries, please email Shannon Navarro at takingthemic2022@univie.ac.at
Follow us on Twitter: @PoetryOff_Page and see www.TakingTheMic.net