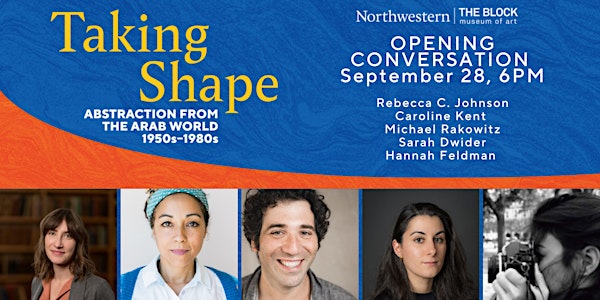 Taking Shape: Exhibit Opening Conversation
an evening conversation to celebrate the opening of exhibit "Taking Shape: Abstraction from the Arab World, 1950s-1980s"
When and where
Location
Block Museum of Art 40 Arts Circle Drive Evanston, IL 60208
About this event
Taking Shape: Abstraction from the Arab World, 1950s–1980s explores mid-20th-century abstract art from North Africa, West Asia, and the Arab diaspora—a vast geographic expanse that encompasses diverse cultural, ethnic, linguistic, and religious backgrounds. Comprising nearly 90 works by artists from countries including Algeria, Egypt, Iraq, Jordan, Kuwait, Lebanon, Morocco, Palestine, Qatar, Sudan, Syria, Tunisia, and the United Arab Emirates (UAE), the exhibition is drawn from the collection of the Barjeel Art Foundation based in Sharjah, UAE.
At its heart, Taking Shape raises fundamental questions: How do we study abstraction across different contexts, and what modes of analysis do we use? Looking critically at narratives of mid-20th-century abstraction, the exhibition rethinks art-historical canons and expands conversations around global modernisms.
This program will feature recorded remarks from Sultan Sooud Al Qassemi, founder of the Barjeel Art Foundation, and Suheyla Takesh, curator of Taking Shape, and a conversation among Northwestern scholars exploring the exhibition's core questions and resonances in our context, including Rebecca C. Johnson (Northwestern Director of the Middle East and North African Studies Program, Associate Professor of English), Caroline Kent (Visual Artist, Northwestern Assistant Professor of Art, Theory and Practice), Michael Rakowitz (Visual Artist, Northwestern Alice Welsh Skilling Professor of Art, Theory, and Practice) and Sarah Dwider (Block Museum 2021–22 Graduate Fellow and Northwestern PhD Student, Department of Art History). Conversation moderated by Hannah Feldman (Northwestern Associate Professor of Art History).
Programs are open to all, on a first-come first-served basis. RSVPs not required, but appreciated.
The Block Museum of Art acknowledges support from the Illinois Arts Council Agency.