Join us outdoors for more thought provoking, empowering and "edu-taining" films for community enjoyment and cultural experience.
About this event
Roc-A-Natural and Sheldon Lewis in sponsorship with Snug Harbor Cultural Center and Botanical Garden , Children's Literacy Society Foundation, Maker Park Radio, Assemblyman Charles Fall, Uncle Chase Foundation, BlurredNoize, Richmond County Black & Minority Chamber of Commerce and SI Community Partnerships are back for four more weeks of Taking It To The Streets: Free Friday Night Outdoor Films beginning July 16 through August 6, 2021.
Hosted at Snug Harbor Cultural Center & Botanical Garden, 1000 Richmond Terrace, Staten Island, NY 10301(Entrance on Tysen & Fillmore/North Meadows-Near Large Fountain) from 7:00pm to 10:30pm. Doors open at 6:30pm.
Local Bus from St. George Ferry Terminal: S40
Bring your lawn chair, face mask and wallet to shop at "T.I.T.T.S" Marketplace while being "edu-tained" at these arts, cultural and community events.
Register for FREE tickets here:https://www.eventbrite.com/e/taking-it-to-the-streets-free-friday-night-films-tickets-140569692735?aff=eand
DJ ROC'N the MIC: @makerparkradio
Performances:- Agent Blurr, Blurred Noize and Guest Artists
- IamI and Jah Jah Beats, Manners and Respect music
Contact Dorcas Meyers 917-406-7736, email ran@rocanatural.com
This project is made possible (in part) by a DCA Premier Grant from Staten Island Arts, with public funding from the New York City Department of Cultural Affairs.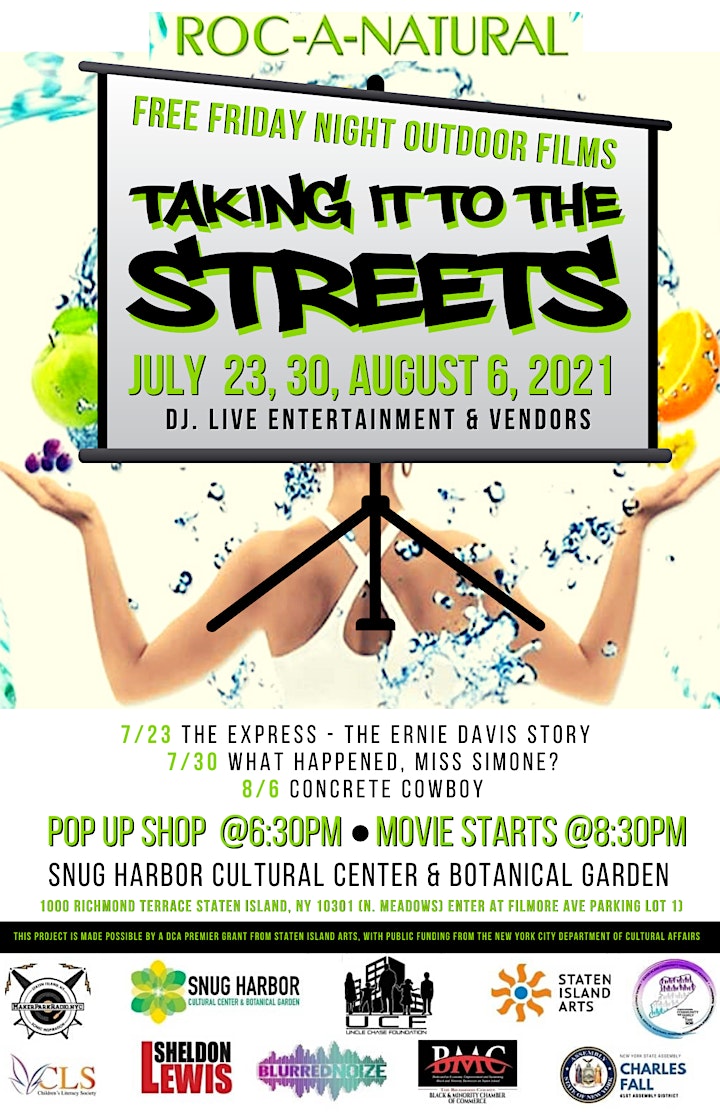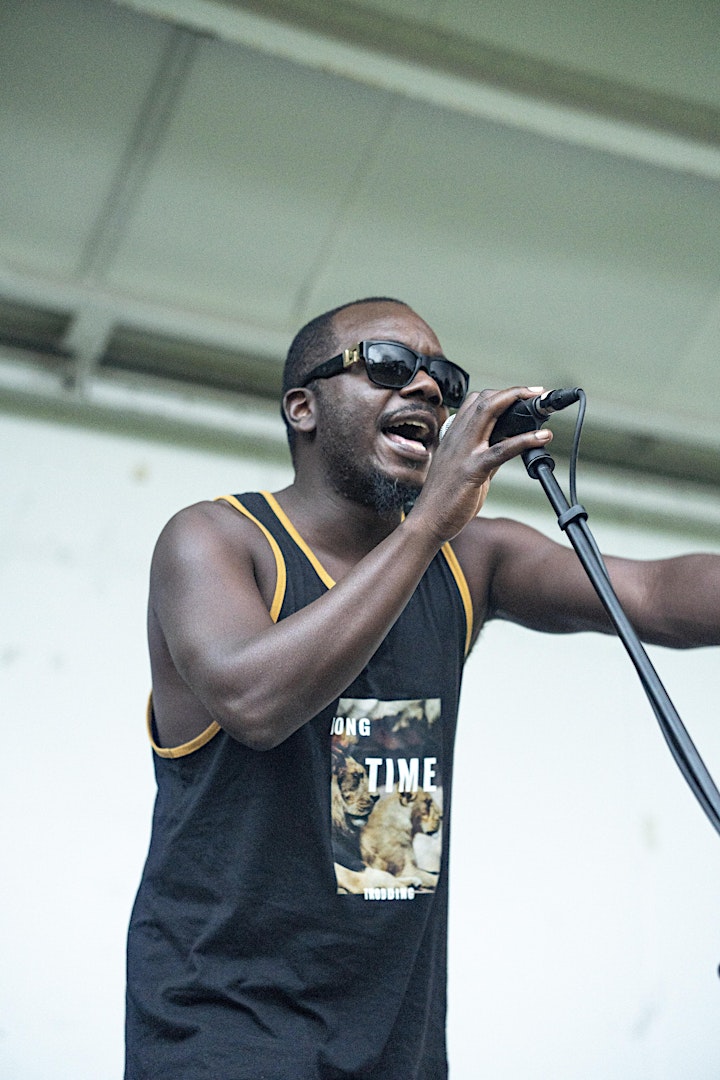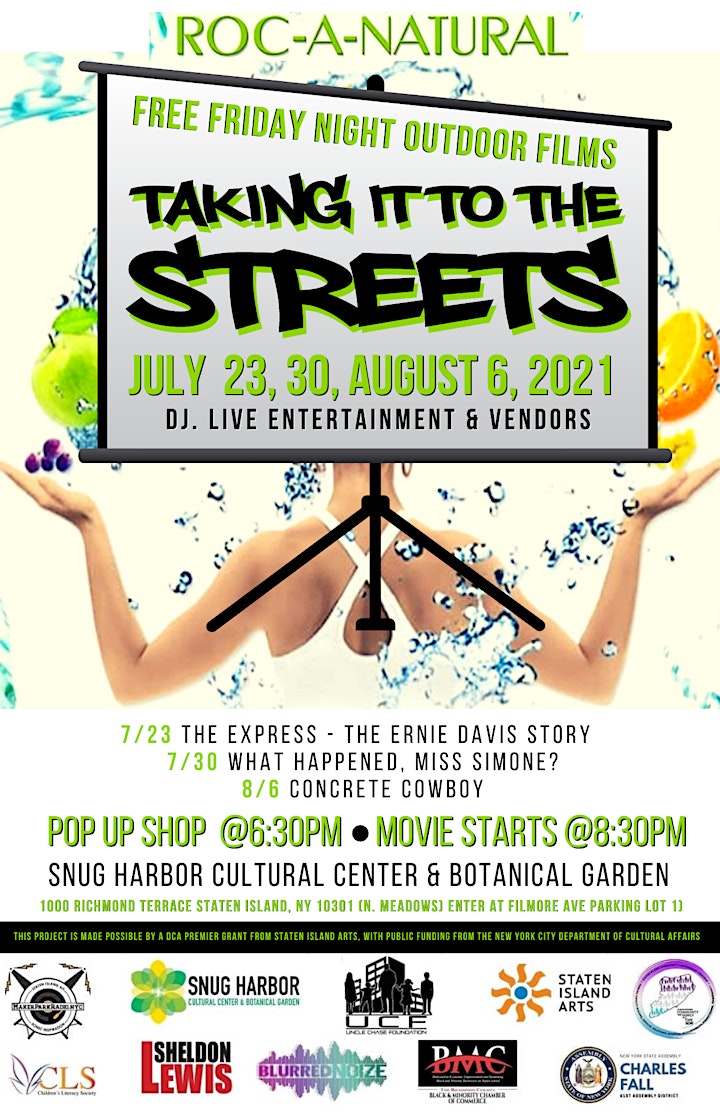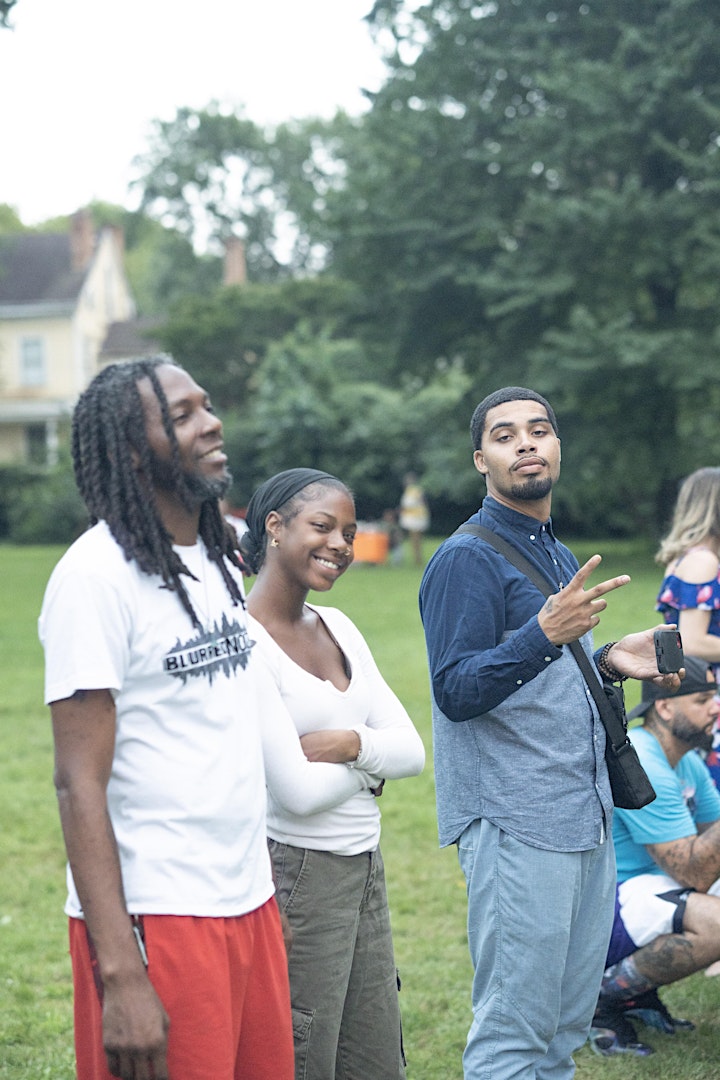 Organizer of Taking It To The Streets: Free Friday Night Films
As an avid Staten Island community and cultural advocate, I continue seek partnerships and collaborations with local organizations to educate and empower, through annual Black History and Kwanzaa programs which were inaugurated in 2018 and recently the inaugurated Taking It To The Streets: Free Friday Night Films in 2020 are growing from strength to strength.