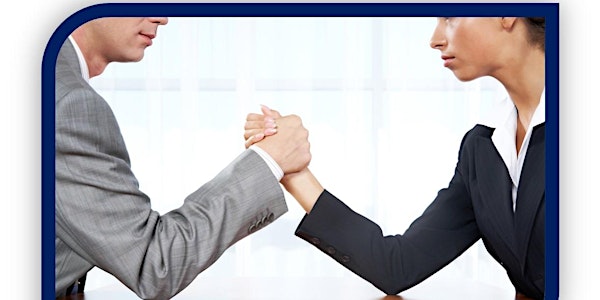 Taking Control of Conflict: How to Resolve and Minimize Workplace Disputes
- RECOMMENDED FOR MANAGERS & EMPLOYEES -
About this event
-ALERT-
DHR will continue to offer virtual/online training classes as a precaution against COVID-19. The health and safety of the public and our employees have made this decision necessary. To take advantage of our online platform, participants will need a computer and access to an internet connection. Moving forward, our team will contact you via email to ensure all participants receive an individualized link to join IDHR's WebEx platform training session.
If you have questions or require any additional information, please feel free to contact our Training Unit at IDHR.Training@illinois.gov.
We appreciate your assistance and support.
- RECOMMENDED FOR MANAGERS & EMPLOYEES -
When two or more people work together, conflict is almost inevitable. Although you may not eliminate conflict entirely, you can take control of it-that is, create a positive working environment in which conflict is dealt with maturely and collaboratively. This program will show you how to do just that. By identifying the source of conflict and implementing effective resolution strategies, you'll learn how to successfully handle conflict and even prevent unnecessary conflict from occurring in the first place.
REASONABLE ACCOMMODATIONS: Trainings with the Illinois Department of Human Rights Institute for Training and Development are accessible to and usable by persons with disabilities in compliance with the Americans with Disabilities Act, Section 504 of the Rehabilitation Act of 1973 and the Illinois Human Rights Act.
A person with a disability needing an accommodation to participate in IDHR trainings should contact the Institute for Training and Development at 312-814-2477 or (TTY) 866-740-3953 or at IDHR.Training@illinois.gov
The Institute for Training and Development requires seven (7) business days to obtain any reasonable accommodation. If for some reason you cannot attend your scheduled training, you must request the cancellation of the reasonable accommodation at least 72 hours prior to the date of training. All requests must be in writing and should include reason for cancellation. Failure to comply may result in suspension of future training privileges.
TRAINING MATERIALS: A training webinar link will be sent via email (1-2) business days prior to the date of training. Once you receive the link please accept with a response and we'll send you the training material. Please add idhr.training@illinois.gov to your address book to avoid emails going to your spam folder.
REGISTRATION AND CANCELLATION: Please register online as soon as possible prior to the training session, as classes without a minimum number of registrants may be cancelled. If for some reason you cannot attend, please request cancellation at least seven (7) business days prior to the date of training.
COURSE REGISTRATION DISCLAIMER: Thank you for your registration! The Training Institute is committed to providing our customers with the best learning experience. A times, a course may need to be rescheduled or canceled based on registrant interest. When this occurs, you will receive a notice of cancellation within 48 hrs. of the scheduled course date.
If you would like information about onsite training for your organization, or if you have suggestions for future public course offerings, please email us at IDHR.Training@illinois.gov.