Taking Control - Financial Security For Women
Description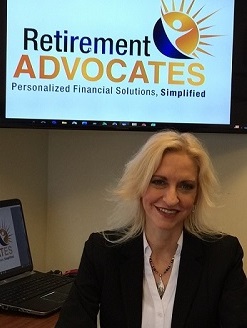 TAKING CONTROL - FINANCIAL SECURITY FOR WOMEN
Presented by: Maria G. Fliess, LUTCF, Co-owner at Retirement Advocates, Inc.

Includes baked chicken breast dinner or lunch - compliments of Retirement Advocates, Inc.
COST: No cost to attend. This event is open to everyone. Guests are welcome.


After working for many years with both men and women, there is no doubt about it, women approach money, saving for retirement, and financial security differently than men do. Today every woman, single or married, widowed or divorced needs to plan ahead for personal and financial security. This requires that you take control of your finances to help ensure a more comfortable financial future. Relying on a spouse to take care of the family finances is not the optimal plan because that person may pre-decease you… then what do you do?

During this luncheon event, the following will be discussed:


● Getting your financial house in order - checklists that matter
● Setting up your foundation - how does it look so far?
● Constructing your portfolio - five common mistakes to avoid
● Keeping your hard hat on - preparing for the unexpected: divorce, death of a spouse, an illness, a parent who needs care, etc.
● Creating your financial blueprint - keeping it simple with a well thought out plan and more.

This is an interactive workshop designed to be informative and fun. Questions and discussion are encouraged. There will be several handouts, a follow along workbook and additional resources given out at the event.


There are three ways to register for this event:
1. Here on this listing: Note: It is not necessary to print the tickets when you register here. We will receive your registration and the tickets are not required.
2. Call our office at: 262.764.4816
3. E-mail us: support@retirement-advocates.com