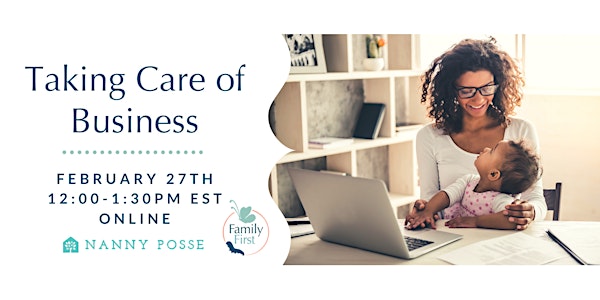 Taking Care of Business
Learn the core ingredients you need to set up an effective business as a Newborn Care Specialist. Proceeds will go to the Nanny Relief Fund.
Refund Policy
Contact the organizer to request a refund.
Eventbrite's fee is nonrefundable.
About this event
We have teamed up with Nanny Posse to offer caregivers 10 amazing and relevant monthly courses designed to challenge and develop your career in 2021! When you sign up for ALL 10 sessions in February you will recieve a $50 discount! The more you register for, the more you save!
2021 Workshops:
February 27th - Taking Care of Business (NCS)
March 20th - Navigating Sibling Rivalry (9-10:30am EST)
May 22nd - Recognizing and Overcoming Perinatal Mood and Anxiety Disorders (11-12:30pm EST)
June 26th - Becoming a Newborn Care Specialist (10-11:30am EST)
July 24th - Play-based Learning in Home (3-5pm EST)
August 21st - Working as an Overseas Nanny (2-4pm)
September - Pediatric Nutrition (Time and DATE TBD)
October - Talking to Children About Race (Time and Date TBD)
November 13th - Working with Multiples (10-11:30am EST)
December 18th - Tummy Time Activities (10-11am EST)
Our first training "Taking Care of Business" will highlight the business side of becoming a Newborn Care Specialist. As caregivers, we are all good at taking care of babies and children, but are we good at taking care of business? We are going to talk about the core ingredients you need to set up an effective business as a Newborn Care Specialist right away and look at what you might need to put into place now if you have bigger plans for expansion in the future. Come join us as we learn from Tonya Sakowicz all about the business side of being an NCS. 100% of the proceeds from Taking Care of Business will go towards the Nanny Relief Fund.
All ABOUT THE SPEAKER :
Tonya Sakowicz is an INA Credentialed Nanny, Newborn Care Specialist, CAPPA trained Postpartum Doula and Parent Educator who does both consulting and in-home sleep conditioning and newborn care for her clients as well as the Owner and Director of Education for Newborn Care Solutions, a company dedicated to the specialized training of high-level Newborn Care Specialists and the only company to offer the Master NCS® training program. Tonya attended Central Washington University, has over 36 years of experience as a Nanny and Newborn Care Specialist and is a proud wife and mother of two children. She is also a certified Eco-Maternity Consultant and Green Birth Educator through her partner company, Baby Go Green.
In addition to being credentialed through the International Nanny Association, Tonya just retired from her role the last 2 years as Co-President of the organization and several years on both the executive and general board, is the past Chair of the Nanny to Nanny Mentoring Program and has served as the NCS Committee chair and in their Monday Mentor Program. Tonya is also the past Scottsdale Chapter President for DEMA, the Domestic Estate Management Association. Tonya is a highly in-demand speaker for the INA's annual conferences and has spoken at several National Association of Nannies conferences, as well as speaking for APNA, the Association of Premier Nanny Agencies at their annual conference. Tonya has spoken multiple times at National Nanny Training Days around the country and for nanny agencies nationwide. She is a founding member and serves on the advisory board for The Baby Dream Team, a group of dedicated Newborn Care Specialists who offer their services as volunteers to families around the country experiencing the birth of higher order multiples. She is a contributing 'expert' for the website NannyPro.com, has been published in and/or appeared in Parents Magazine, Child Magazine, The Seattle Times, The AZ Republic, The Wall Street Journal and the INAVision. Tonya has also made numerous television appearances including spots on the news in Seattle, Portland and Phoenix as well as an appearance in 2007 on the Today Show for a special on the Masche Miracles (a family with sextuplets).
Tonya was voted the Professional Childcare Provider of the Year in 2003 and nominated for the International Nanny Association Nanny of the Year in 2004. In addition, that same year, she was deeply honored with a nomination by her peers for the National Association of Nannies Harriette Grant Memorial Award. In 2016, Tonya was honored with the DEMA Educator of the Year Award and most recently, in 2017, was again honored with the DEMA Educator of the Year and was the recipient of their prestigious DEMA Lifetime Achievement Award.
Along with her husband Todd, Tonya has founded Newborn Care Solutions, a company dedicated to education for families with newborns through the training of Newborn Care Specialists and for helping families adjust to life with their newborn baby.
In her spare time, Tonya likes to knit, cook, travel with her family and explore the world underneath the sea through scuba diving around the world.