Taking a Youth-Centered Approach to Care: Implementing CA Minor Consent Law...
Description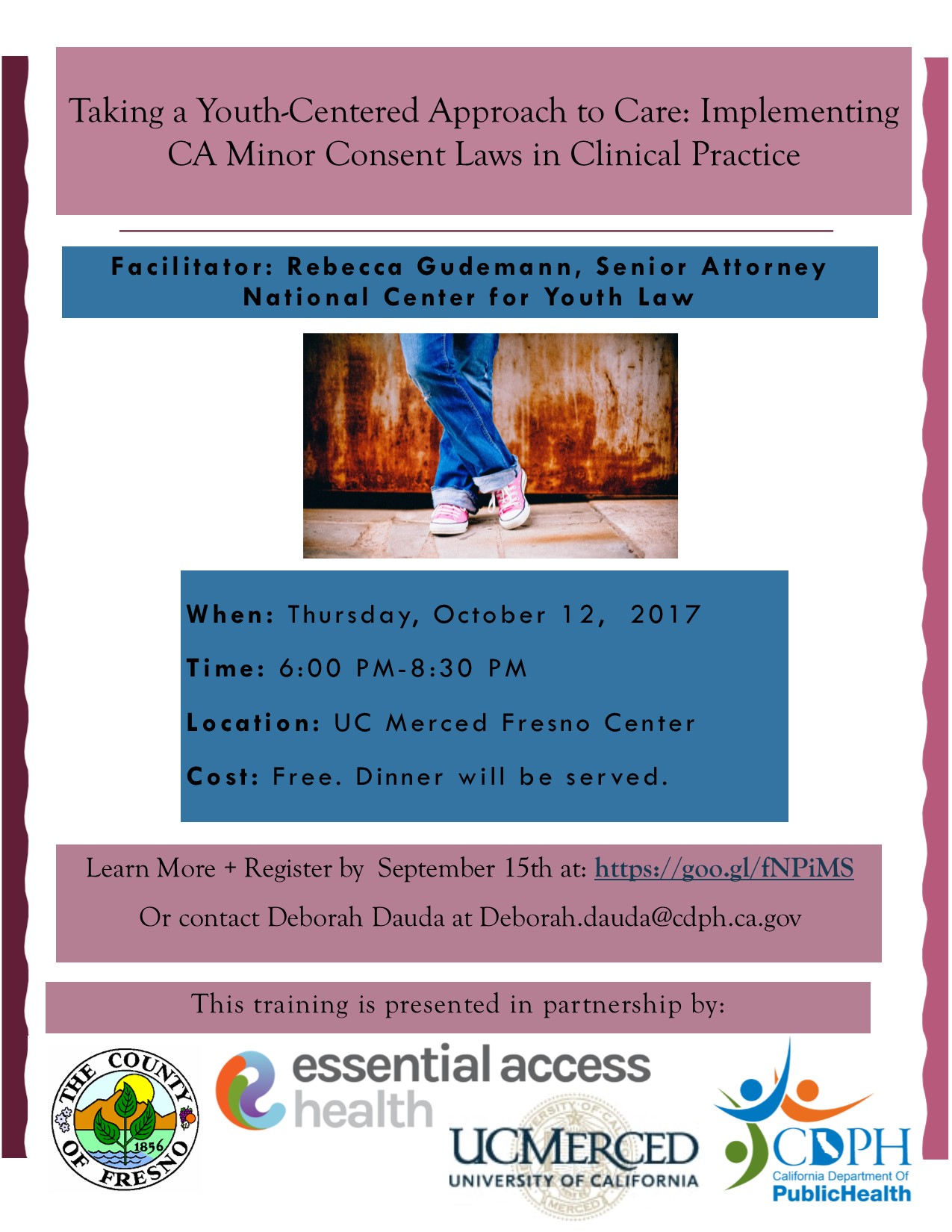 Why?
Fresno County has some of the highest adolescent sexually transmitted disease (STD) and teen birth rates in the state. There is a demonstrated need for teen-friendly sexual and reproductive health services in Fresno, however, it has been demonstrated that concerns about being able to consent for and access services confidentially may prevent some young people from accessing essential care.
This 2.5 hours training workshop led by legal and clinical experts will feature evidence-based clinical best practices for the delivery of a youth-centered approach to sexual and reproductive health care in the context of existing California Minor Consent Laws. Join us to learn, share, and connect with a community of providers serving Fresno County youth.

What Will You Learn?
• Data demonstrating high rates of STDs and teen birth in Fresno County
• A review of CA Minor Consent and Confidentiality laws presented by the Senior Attorney from the National Center for Youth Law
• Updates on policies that seek to protect and expand youth access to sexual and reproductive health care
• Current research demonstrating youth need for minor consent and confidential services
• Best practices for implementing Minor Consent and Confidentiality Laws in the youth patient visit
• Insights from Community Regional Medical Center Pediatrics Team on their approach to implementing CA Minor Consent laws and providing youth-centered care
• Communication tips and resources for discussing sexual and reproductive health topics with adolescent patients

Trainer
• Rebecca Gudemann, Senior Attorney at the National Center for Youth Law (NCYL)
• Holly Howard, Chief, Health Promotion & Healthcare Quality Improvement at the CA Department of Public Health, STD Control Branch
• Emily Bahne, Nurse Practitioner at Community Regional Medical Center, Pediatrics Clinic

Format
This will be a didactic and interactive Training-of-Trainers (TOT) workshop. Participants will be provided a PowerPoint slide deck and other materials to facilitate the spread of the information gathered from this training back to their health centers through training at staff meetings and through other means.

Who Should Attend?
Due to a limited number of spaces available for this training, we can allow a maximum of two persons per clinic site to attend, with a total maximum of 40 participants from 20 clinics across Fresno County. We welcome the participation of health care professionals serving youth in Pediatric, Family Medicine, and Community Health settings including:
• Clinical providers
• Clinic managers and staff trainers
• Quality improvement managers and staff

Cost
Free. Dinner will be served!

Continuing Education (TBD) and Child Care Request (TBD)
During registration please indicate whether childcare and CEs would be beneficial to have for this training. We will provide CEs and childcare if there is sufficient interest.

This workshop is a collaboration of:
• California Department of Public Health
• Fresno Department of Public Health
• Anthem Blue Cross
• CalViva Health/ HealthNet
• Essential Access Health
• UC Merced Fresno Center

---
Have questions about the Training? Contact Deborah Dauda at deborah.dauda@cdph.ca.gov or (559) 600-3428