Eco Amet Solutions presents the "AFRICAN ECO-RESEARCH REPORTS (AFRICER)" Webinar dubbed Taking a second look at Bio-waste: Circular economy.
About this event
Dear participants and interested parties,
This webinar is part of Eco Amet Solutions' initiative dubbed the "AFRICAN ECO-RESEARCH REPORTS-AFRICER". It aims to promote the education of circular economy and sustainable practices across the continent. The "Taking a second look at Bio-waste: Circular economy in Africa" is the first of the AFRICER webinar series, and it aims;
To create awareness on the current burden of bio-waste and the need to reduce the load.
To examine food waste prevention methods, practices, and strategies.
To assess the feasibility of selling biogas to local businesses.
To examine regulations surrounding the production of biogas.
To develop and encourage a waste segregation system in local communities.
To encourage food waste composting in local communities that will recycle locally sorted food waste to valuable products for sale.
Program Line up and List of Events "Taking a second look at Bio-waste: Circular economy in Africa" webinar.
Date: 31st July 2021
Venue: Virtual (Register to get access)
Time: 12 pm GMT (8 am Toronto, 8 pm Beijing)
Speakers
(B)energy (Germany): Edoardo Federici
(B)energy is a social business that provides households in rural Africa, Asia, and Latin America with access to cooking biogas in an innovative, entrepreneurial, technical, and ecological manner. This mission-driven business believes that local entrepreneurs are the ones who should be taking up the responsibility for the production and distribution of renewable cooking energy in their community, and it is working with local partners to make it possible.
Edoardo Federici, Marketing & Communications Manager at (B)energy, will present the unique approach of this social enterprise, its innovative technology, and the real business potential of household biogas.
Topic: Making BIOGAS a business and the benefits of aid-free business. Small- and large-scale biomass business
Fortescue Future Industries (Australia) | AFRICER-Eco Amet Solutions (Ghana): Basil Amuzu-Sefordzi, PhD.
Basil is an environmental advisor at Fortescue Future Industries. He's also the principal managing consultant at TG Innovation Systems.
Basil holds a PhD in renewable energy and innovation studies. His main research interests are the sustainability of internationally funded renewable energy projects in Africa, sustainability transitions and innovation diffusion.
Topic: Diverting bio-waste from the landfills into resources.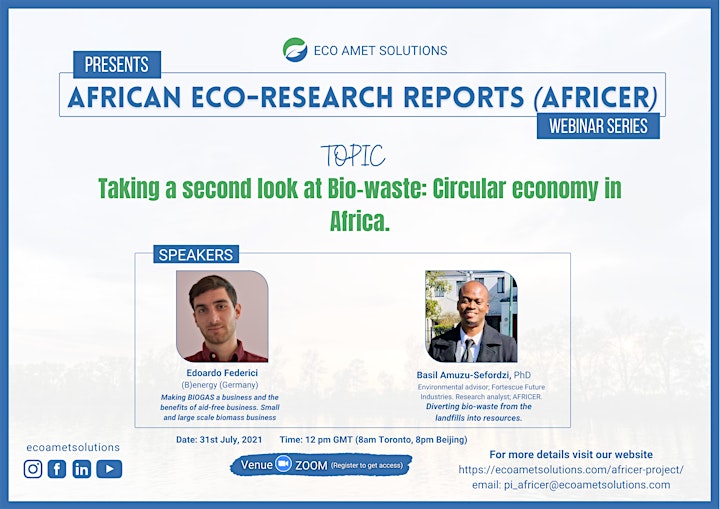 Organizer of Taking a second look at Bio-waste: Circular Economy in Africa.
Eco Amet Solutions provides services that empower and inspire our clients to contribute their fair share to the "going green" philosophy. Our policies aspire to improve environmental conditions in local communities and access to safe drinking water and sanitation, good health and sanitation, and sustainability. We offer environmental consultancy and services mainly in wastewater treatment and freshwater technologies, sustainable and green energy solutions and municipal solid waste management(Consultancy).
Eco Amet Solutions is very passionate about Environmental education and awareness. We host seminars, organize campaign projects, engage in social media advocacy and education and publish environmental blogs to educate the public on environmental conservation and sustainability based on scientifically proven statistics and facts. Our podcast, Green Living Chats, is an important platform we use for creating awareness and promoting sustainable practices and projects.
We are also open partnerships with research institutions, NGOs, environmental stakeholders, and interested individuals to carry out such initiatives at all levels for a common goal in Ghana and on the African continent.