Description
DrumHeart DFW TaKeTiNa
Rhythm for Evolution -

TaKeTiNa Workshop
with Michael Kenny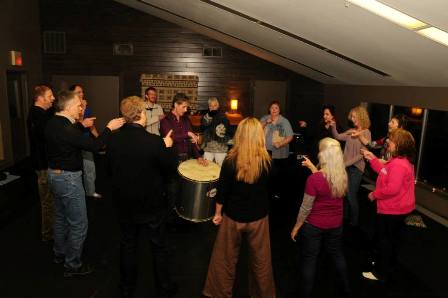 1st Fridays at
Divine Sight Healing Arts Center of Dallas

TaKeTiNa is one of the most efficient learning methods available today. It is a process for activating human and musical potential through rhythm. It is a path in which musical learning always goes hand in hand with personal development.
TaKeTiNa is a practice that allows you to reconnect with the healing powers of rhythm and primordial motion. Like yoga, it is a pathway to something much bigger than musical or physical dexterity. It is a rhythmic route to integrating mind, body, and spirit for vibrant peace and wellbeing.
In the TaKeTiNa process you learn at your own pace, layering multiple rhythms in your body using steps, claps and voice. You learn to consciously let one hand be passive while actively moving the other. You can be simultaneously tensed for activity and deeply relaxed. TaKeTiNa gives you access to profound stillness in movement.
Read more from Reinhard Flatischler about why TaKeTiNa can be understood as The Yoga of Rhythm
Join Taketina teacher and master music therapist Michael Kenny MMT, MT-BC as he weaves and draws us all into a "rhythm web," and discover how your own innate rhythmic wisdom can guide you into joyful presence in the here and now.
Schedule - Every 1st Friday: 7:00-9:00pm

Contact Michael@drumheart.org for additional details or any special arrangements. 214-912-5700

What people are saying about their TaKeTiNa experience:
1. I've learned to lighten up a bit and experience childlike fun again!
2. I am now able to laugh at my "mistakes" in Taketina and in life
3. There is nothing I have experienced to date that gets me into the Present Moment, and keeps me there, like Taketina
4. I have never felt my energetic body so intensely as when we are lying down after Taketina
5. I am able to feel, and allow, rhythm to flow through me (that is, when I can get out of the way and allow it to BE!)

ven though I am the same person, I am not the same at all. I feel so content. I feel like I am really living my life. It's a beautiful thing :) Thank you - from love
I am a shy, introverted person by nature and have difficulty interacting in groups. I also have performance anxiety at times. I feel that my experiences with Taketina have helped me "come out", in a sense. I have become more comfortable in groups and less judgmental about my "performance".
This process of opening up more and more takes me to a deeper meditation and relaxation than I ever feel anywhere else. Sometimes I feel completely alone. Sometimes very connected with the other souls in the room, but more often there is a sense of melting into the Cosmos - connected with everything. But there is always an overwhelming sense of peace.
Have questions about The TaKeTiNa process and experience?
Contact Michael@drumheart.org