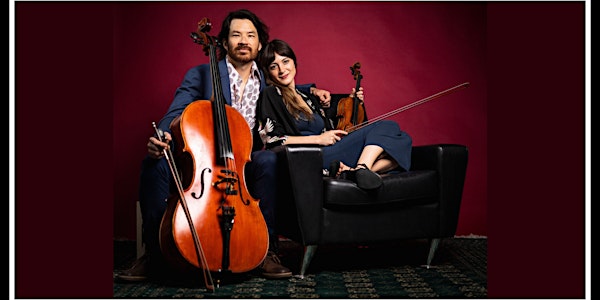 Takénobu - NEW DATE WED 11.16.22
Cellist and composer Nick Ogawa joined by violinist and vocalist Kathryn Koch, complete this multifaceted, married, string duo
When and where
Location
The Evening Muse 3227 N. Davidson Street Charlotte, NC 28205
About this event
Takénobu is the middle name and musical appellative of cellist and composer Nick Ogawa, performing for years as a solo live-looped outfit. Now joined by his wife and talented musical partner, violinist and vocalist Kathryn Koch, Takénobu is a multifaceted string duo. The pair perform original cinematic folk songs with vocal harmonies over layered pizzicato chords and dreamy and dramatic instrumental pieces.
Takénobu - Always Leave a Note
Release date: Sep. 3
The silver-lined staccato cello jabs that launch "Traveling Light"—the lead track from Takénobu's new album, Always Leave a Note—thrust forward like oars in the water, beating hopeful against the current of the most bleak, isolating and anxiety-ridden year in recent human history. It wouldn't be shocking for anyone to lose heart amidst a deadly global pandemic, the ensuing lockdown and economic strife, mass civil unrest, and a divisive election followed by a violent assault on the peaceful transfer of power. But in a move that was as much about self-care and sanity as providing a light in the darkness for its passionate fans, Takénobu did its best to turn despair into positivity.
"When we began writing and recording last summer, the whole world felt like it was coming to an end," says Takénobu founder and frontman Nick Ogawa. "Initially there was a lot more political content on the record, and an of-the-moment feeling of angst. Honestly, though, that became a drag. It started to drain me. So I very consciously went in a more hopeful direction. It seemed like the only way to make it through this whole thing."
It's no coincidence that four of the new album's 11 tracks contain the phrase, "It's gonna be alright"—or that closing track "Tranquility" fades out on the lyric, "I'm trying to find my peace of mind." Ogawa is very cognizant of the many listeners who have sought refuge in his music over the years, drawn in by its serene vibe. "I've been deeply affected by people who have reached out and said, 'I have severe anxiety and your music is one of the most helpful things.' It feels amazing to hear that. And I think, despite its angsty origins, Leave a Note still has that calming sound. The thinking was that by the time this record comes out, hopefully we'll be in a better place, and that anxious, overwhelmed feeling will be gone."
Of course, Always Leave a Note doesn't simply gloss over the kind of darker social commentary a year like 2020 demands. At several points, it takes aim at the exhausting and dehumanizing nature of Western capitalism, glimpsed through the rare clarity of covid lockdown. "It begins with an anti-overwork, anti-exploitation vibe, critiquing the banal slog of dead-end employment, and goes on to explore the disenchantment of falling prey to such a hollow interpretation of the American Dream," Ogawa says. "You know—the workaday world, but party on the weekends and forget your troubles. But the downfall, which we sing about in "Got to Get By," is where all the excess catches up with you. There's definitely an arc to the record—by the end, there's this realization that you just want to be in a good place mentally. Really, that's all you can hope for."
In addition to providing its creators a vehicle for emotionally and psychologically navigating the pandemic, Takénobu's Always Leave a Note marks a major step in the Atlanta chamber-pop project's evolution. This is the first time Ogawa has been able to maintain such a singular focus while writing and recording, to be able to work completely uninterrupted, in one seamless motion. It's also the first Takénobu record to heavily feature upright bass and drums, many of the songs born of Ogawa learning to play the latter during quarantine. The album has a more contemporary indie-pop feel, influenced by Takénobu's time on the road opening for fellow multi-instrumentalist and songwriter Kishi Bashi. And instead of focusing inward on Ogawa's personal experience, the lyrics look outward, taking a much broader worldview. Perhaps most importantly, though, Always Leave a Note is Ogawa's first full, start-to-finish collaboration with his new wife—and now bandmate—singer/violinist Kathryn Koch.
"Kathryn's vocals are so beautiful," Ogawa says. "They really give the album a universal appeal. And her musicianship elevated things, too. She has a master's degree in violin performance, and knows so much more about theory than I do. So for her to come into the project with all her know-how and sweetness, and to be able to offer so much guidance through the whole process was really key. She's such a voice of reason; more than just musically—in my life, as well."
Ogawa and Koch—who share a love for music and animals—met a few years ago while working for the same dog-walking company (the only non-music job either has had in the past decade). Eventually, they moved into a house together on a quiet, wooded street near East Atlanta Village, and last September they made things official, taking a break from recording the new album to get married. In the one-room studio behind their house, they wrote, produced, engineered and played every instrument on the new album themselves. "We could get as many takes as we wanted," Koch says, so it had plenty of time to change and grow—to become what it was meant to be."
Nick Takénobu Ogawa began playing the cello at age 6, required by his parents to practice at least 45 minutes every day through elementary school. But after that he stopped, taking a lengthy hiatus from the instrument until high school. "You go through this sort of pubescent awakening, and I came back to it and realized, 'I'm good at this. I can express myself,'" Ogawa says. "Growing up in Vermont, which is very white, I felt out of place. I made some good friends, but I just felt—different. I'm not saying anyone was particularly mean to me, but it's noticeable when you're different. So I just gravitated toward anything that gave me an identity. And that was music. I just really felt like I could sink my teeth into it, and make it mine in a way I couldn't with pretty much anything else."
Ogawa started writing songs in high school, and continued through his days at Pennsylvania Liberal Arts college Haverford. After graduation, he lived briefly in Japan and Vancouver before moving to New York to more seriously pursue music. In 2006, at 24, he won the Williamsburg Live Singer-Songwriter Contest, and used the prize money to finance 2007's forlorn and meditative album Introduction, his first release as Takénobu. In addition to it being his middle name, the moniker is a combination of the Japanese Kanji of his father's and grandfather's names. Loosely translated, it means "iron will."
In 2011, Ogawa released two more albums—triumphant sophomore set Exposition and nostalgic followup Momotaro, inspired by a story his father read to him in Japanese when he was a child. In 2012, Ogawa followed with relatively lo-fi departure Climactica. The prolific period from 2016-2019 saw the release of breakup album Reversal, and two soundtrack albums (for the films 42 Grams and Still), as well as the enchanting and hopeful Conclusion, which Ogawa conceived and recorded after meeting Koch, who sings and plays violin on the album. Ogawa has also composed music for TV and podcasts including Netflix docuseries Last Chance U and the wildly popular NPR podcast Invisibilia, which reaches over 100 million listeners.
Fourteen years into his musical journey as Takénobu, Always Leave a Note is Nick Ogawa's finest work to date. He and Koch are looking forward to getting back on the road this fall and touring as venues reopen and the pandemic that inspired so much of the album fades into the rearview.
"Last year was an opportunity for self-awareness, to take a step back, and consider what really matters most," Ogawa says. "But at the same time, it was so tragic and hard to reconcile—I could see all the suffering happening. I just feel fortunate that Kathryn and I were able to throw ourselves into making music and ultimately create something hopeful out of such a dark period."
Takénobu's Always Leave a Note is out Sept. 3.