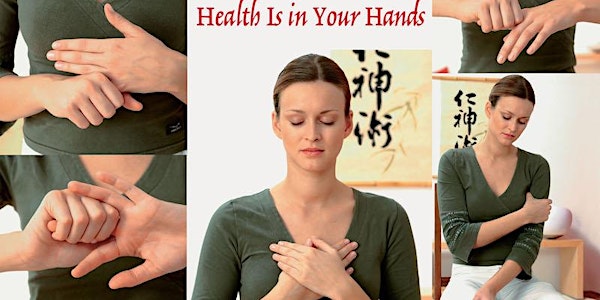 Take Your Health into Your Hands: Jin Shin Jyutsu for Beginners
Get to know the ancient art of self-healing Jin Shin Jyutsu, and benefit from practicing it immediately.
Refund Policy
Contact the organizer to request a refund.
About this event
What if caring for your health and that of others were literally in your hands?
This is exactly what Health is in Your Hands – Jin Shin Jyutsu® (JSJ) offers humanity: an accessible yet sophisticated art of healing ourselves and others – physically, mentally and emotionally.
What to expect from this webinar for true beginners?
A basic introduction to the philosophy and practice of the ancient Japanese healing art Jin Shin Jyutsu® (JSJ) - Health is in Your Hands
Develop your personalized self-healing portfolio that will be literally 'at your fingertips' and come in 'handy' anytime, anywhere.
Learn simple hand placements on your body to address specific symptoms and alleviate discomfort while boosting your immune system and overall wellbeing.
Take your health into your own hands – empower yourself and become more independent and self-reliant in taking care of yourself.
Experience an easy way to relax and rejuvenate your body, mind and spirit by simply tapping into the healing power of your own hands.
Gain access to an effective complementary healing modality that you can utilize for yourself and others, and that you can definitely afford.
Health is in Your Hands – in Shin Jyutsu® (JSJ) – offers a path to greater health and wellness that is accessible to all of humanity, and not only the well-off.
Why is the ancient healing art of Health is in Your Hands – Jin Shin Jyutsu® (JSJ) helpful for me?
In JSJ, our hands work as 'jumper cables' that will recharge our empty battery and restore the flow of energy in our body, mind and spirit; this, in turn, is the key to a healthy and harmonious life.
While Health Is In Your Hands – Jin Shin Jyutsu® teaches a complex-yet-simple, highly effective approach to healing, it is fundamentally steeped in our innate knowledge of the harmonizing and healing power of our own hands.
Countless years of studying and a vast trove of experience and knowledge have gone into these energetic, ancient Japanese hand choreographies, the so called 'flows', which were brought to the West by the late Mary Burmeister.
How can I attend the webinar?
1. Get your ticket here, on Eventbrite.
2. Download Zoom, if you haven't used it yet: https://zoom.us/download#client_4meeting
3. A Zoom link will be emailed before the start time.
We take responsibility for bringing wellness to our community and donate 10% of ticket sales to the Mary Burmeister Foundation
About the practitioner:
Dr. Kathrin Stengel is a philosopher and certified Jin Shin Jyutsu® (JSJ) practitioner with a focus on teaching JSJ self-help. An experienced and passionate teacher (Seattle University & Rhode Island School of Design) she combines the benefits and wisdom of philosophy with the therapeutic power of Jin Shin Jyutsu, an effective art of self-healing that harmonizes body, mind and spirit, and is accessible to all anytime, anywhere.
In 2006, she wanted to share her vision of Philosophical Living & Lived Philosophy with people of all walks of life and founded (together with Dr. Michael Eskin) the philosophical studio and publishing house Upper West Side Philosophers, Inc., which has published, among many other award-winning books, the bestselling book-and-card-set Health Is in Your Hands: Jin Shin Jyustu® – Practicing the Art of Self-Healing by Waltraud Riegger-Krause.
Dr. Stengel has been teaching Vipassana Meditation since 2002 and is the author of the award-winning book November-Rose. A Speech on Death. She has raised three sons in NYC, where she lives and works together with her husband Dr. Michael Eskin.
Connect and get more information & free videos: www.health-is-in-your-hands.com
Testimonials
"Visiting Kathrin and experiencing Jin Shin Jyutsu has been a wonderful healing experience over the past years. I always feel centered after leaving a session, and she gives me tools to work with that further my healing process. Having the tools to work through physical and emotional blocks has been very empowering. I can now understand the way my body, mind, and emotions work together. Kathrin is very gifted and also very intellectual, which makes her able to fully explain what is going on. Talking with Kathrin feels like she is giving a big hug, even before the hands on healing starts." (Karla Rasmusson/www.wonder.social)
"It has truly been a pleasure to take Kathrin's classes on JSJ. Not only did she share so much interesting information with me but she also has such a graceful presence about her. She gave me a solid understanding of the foundations of JSJ. She was helpful and informative, always answering my multitude of questions. In every lesson she had something new and interesting to present. And she has a beautiful and soothing voice as she guided me through the flows/holds. She has both empowered me and inspired me to learn more about JSJ and what an amazing art form it is. I am hooked! And I have already felt the healing in my own body through my work with JSJ." (Vickie K.)
For more information visit: www.health-is-in-your-hands.com