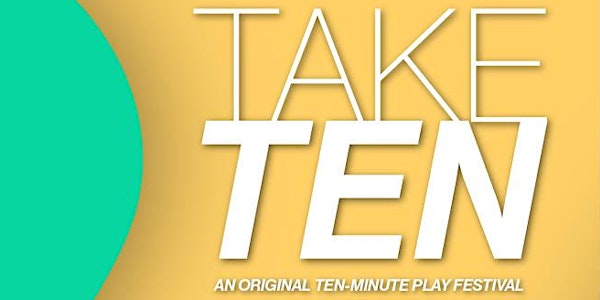 "Take Ten!" - Broward College's Original Short Play Festival
Sales Have Ended
Registrations are closed
Thank you for your interest in Broward College Theatre Department presentations. The "Take Ten" Short Play Festival has ended, but we value your support. Please follow us on Instagram (TheatreonSouth) or on Facebook (Theatre at Broward College) to learn about upcoming events. Also, you may see our past productions on Youtube at BC Theatre Productions.
Original Short Play Fest features thought-provoking and fun works from Florida Playwrights.
About this event
Broward College will present Take Ten, an original short play festival, on April 24th and 25th. The festival, which is free of charge, features ten 10-minute plays written by Florida Playwrights and selected by a panel of theatre professionals.
Five plays will be presented online on April 24th, followed by a lived Q&A (on Zoom) with the playwrights. https://broward-edu.zoom.us/j/96321367813?pwd=QTM0ZDZUamV6ajVQNnVDK3FHMDcwZz09
Meeting ID: 963 2136 7813 Passcode: 901486
Five different plays will be presented online on April 25th, followed by another live Q&A (on Zoom) featuring the playwrights for these particular selections. https://broward-edu.zoom.us/j/97956073169?pwd=bjk4dUtRbEFtczdYL2puTEJkdGdWUT09
Meeting ID: 979 5607 3169 Passcode: 017940
Performed by Broward College theatre students and filmed outdoors in a festival setting, the short plays revolve around the theme "Be the Change." Featured playwrights are Connie Schindewolf, Laurie Tanner, Bruce Karp, Arianna Rose, Leslie Sanderson, Tyler Powell, Edward Bloor, Ken Preuss, and Dorothea Cahan. The plays address subjects such as the environment, immigration, academic integrity, recovery from addiction, PTSD, female empowerment, and challenges in policing.
While tickets to the event are free, scholarship donations will be accepted. For more information, contact theatre@broward.edu.
We invite you to support Student Scholarships by donating at https://giving.broward.edu/vpa
"I have found that among its other benefits, giving liberates the soul of the giver." ―Maya Angelou
For more information about the Theatre Program please visit: Broward College Theatre Dept. Instagram Account