Celebrate PRIDE Month by bringing awareness to mental health supports and resources in DFW!
About this event
Join Mental Health America of Greater Dallas on Jun 26, 2021 for Take PRIDE in Mental Health Resource Fair! Celebrating PRIDE is not only a celebration of identity but also showing support for the LGBTQ+ community. The mental health of our LGBTQ+ community should not be left out. Bring awareness by finding resources and attending our workshops! This event is in person!
The FREE resource fair will be from 9:30 a.m. to 2:30 p.m. at the MHA-Greater Dallas parking lot. We look to resources across the DFW area that aid our mental health and support our LGBTQ+ community. This event is for all ages and all members in our community!
MHA-Greater Dallas will host three sessions of workshops:
Session 1: (10 a.m. – 11:15 a.m.)
LGBTQ+ Cultural Competency Training for Clinicians ($25 & CEU Provided)
How to Support a Loved One (Free)
Session 2: (11:45 a.m. – 12:40 p.m.)
Session 3: (12:45 p.m. – 1:30 p.m.)
Support the LGBTQ+ Community Advocacy Training ($25 & Certificate of Attendance)
*All workshops will require attendees to wear masks and seated socially distanced. Temperature checks are made before entering the building.
Tickets are individually sold for each workshop.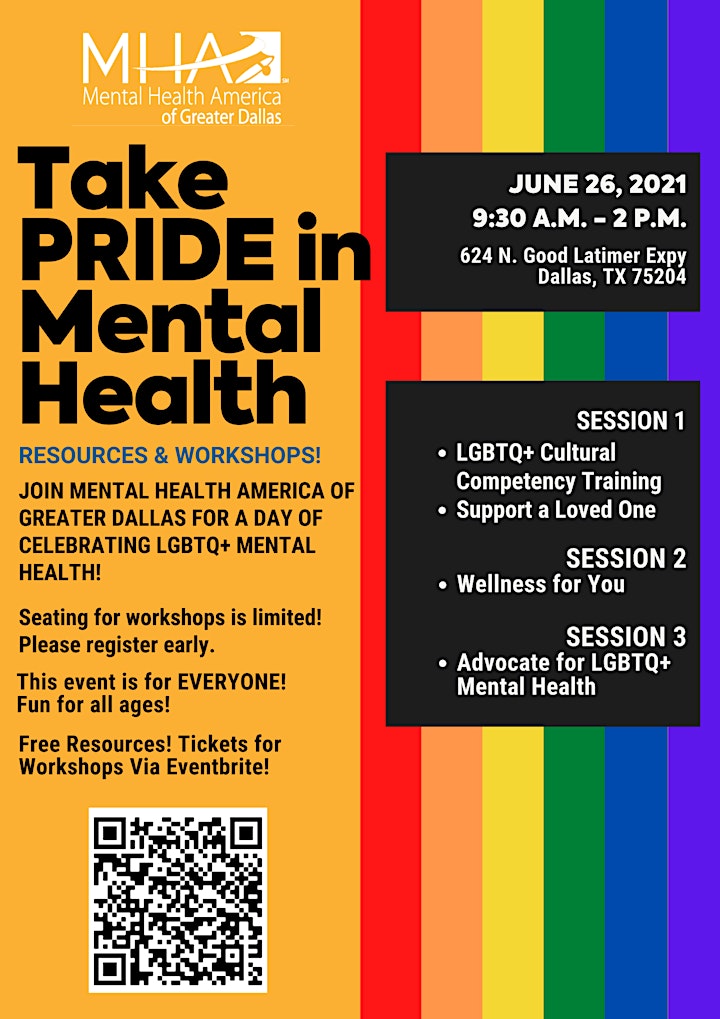 Organizer of Take PRIDE in Mental Health
Mental Health America of Greater Dallas (MHA Dallas) is a 501(c)(3) non-profit organization working to promote mental wellness through community education and policy advocacy. Put simply, MHA Dallas serves as a catalyst to identify, assess and respond to mental health needs in the community.
As a facilitator and coordinator for local mental health service providers, MHA Dallas operates through strategic long-range planning along with immediate responses to community crises as they arise. In addition to our efforts to supply information, education and advocacy related to mental health issues, we also provide preventive programs designed to equip high-risk populations (including children, the homeless and the indigent) with information and skills to combat stress and adversity.
Through collaboration with other service providers, MHA Dallas is building a powerful local movement to address the needs of those without affordable and accessible mental health services in the Dallas area. Won't you join us?