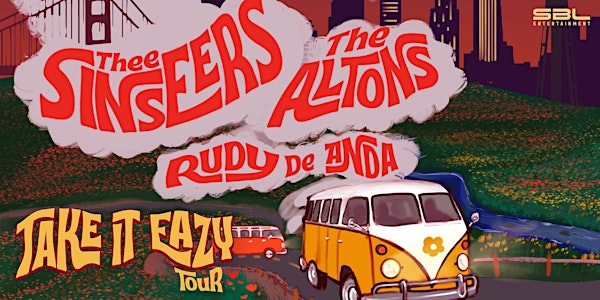 Take It Eazy Tour: Thee Sinseers, The Altons, and Rudy de Anda
ALL AGES
Presented by SBL Entertainment
SBL Entertainment Presents the Take It Eazy Tour, Live at the Crest!
When and where
Location
Crest Theatre 1013 K St Sacramento, CA 95814
Performers
Thee Sinseers
The Altons
Rudy De Anda
About this event
Thee Sinseers
Straight out of East L.A. and led by multi-instrumentalist, producer and singersongwriter Joseph Quiñones, Thee Sinseers feature a full brass section led by Eric Johnson (Tenor sax), Steve Surman (Bari sax) and José Luis Jimenez (trombone). The line up also includes sweet harmonies and a tight rhythm section consisting of Christopher Manjarrez (Bass), Francisco Flores (Guitar), Bryan Ponce (Guitar/vox), Luis Carpio (Drums/vox) and Adriana Flores (Vox). Together they are a part of a community of musicians who are tying together both the nostalgic and classic with the innovative and new to bring a unique sounds to soul music.
Thee Sinseers are part of the great Colemine Records family lead by Terry Cole, who released their first singles for the songs "It Was Only A Dream" and "I Don't Mind" in 2019, with a full length expected for release in 2022. The band's song "Seems Like" was also included in the inaugural compilation EP titled Presenting Penrose Records, from the Penrose imprint of the renowned, Brooklyn-based label Daptone. 
The Altons
How would you characterize the sound of Southeast LA? The Altons, natives of the region, combine dust kicked up from backyard parties with evening Art Laboe listening sessions, evoking a sound that veers far from the shadows.
The Altons curate a ballad of retro-indie-soul that has captivated local audiences for several years, quickly driving them to become a staple of the scene. Their distinct sound caught the attention of Daptone Records Co-founder Gabe Roth, who was in the process of starting Penrose Records. Penrose became a subsidiary label to Daptone to highlight the emerging soul-scene growing in Southern California, where The Altons fit perfectly. Their Penrose debut "When You Go (That's When You'll Know)" was KCRW's Today's Top Tune, and their most recent single "Tangled Up In You" has been featured on "Soulection Radio."