About this Event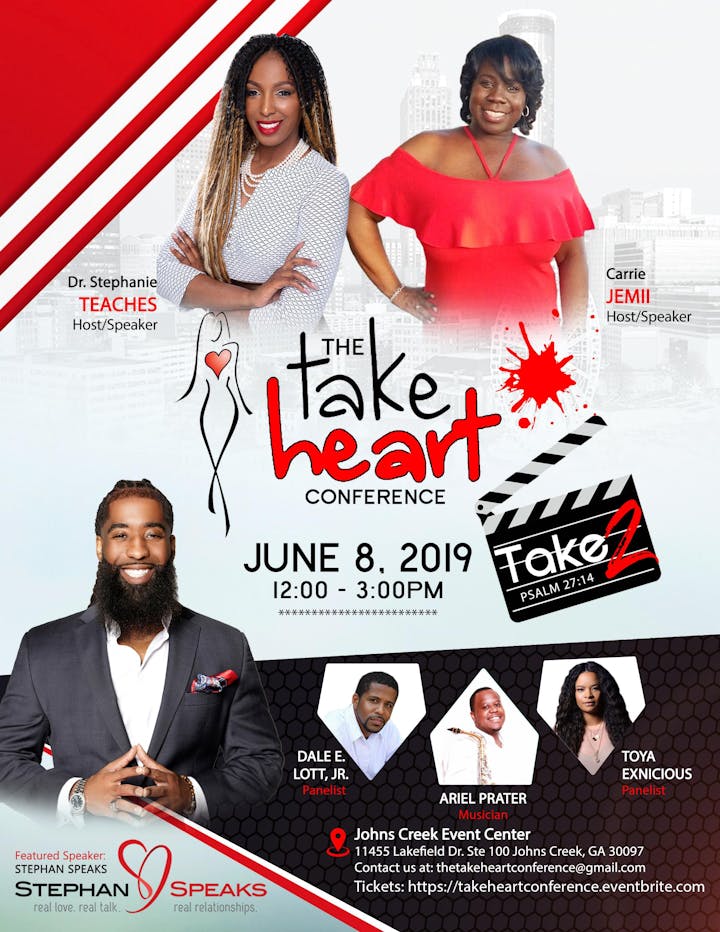 Ladies, you do not want to miss this event. Established in 2013, the Take Heart Conference has been guiding women through their personal goals of drawing closer to God while in their singleness. Now, in 2019, Take Heart Conference's aim is to guide all women to draw closer to God in every area of life.
Psalm 27:14 says, "Wait for the LORD; be strong and take heart and wait for the LORD." Many times being strong and waiting can be difficult, and we certainly understand. This is why Dr. Stephanie Teaches and Carrie Jemii invite you to the Take Heart Women's Conference – Take 2 – in the Atlanta area. The warm atmosphere that you will experience while attending this conference will be a feeling of unforgettable abundance love, peace, and joy of knowing that God is Love.
The Take Heart Conference – Take 2 - is excited to announce our special featured speaker, Stephan Speaks, certified relationship coach, speaker, and author, who will speak on self love, relationships, and God.
Come and experience a lavish event where you will leave knowing your self-worth, loving yourself more, and understanding the power and love of God.
Attendees will receive a light lunch provided by Taste Of Diamond Catering Services.
We will also have a host of vendors for your shopping pleasure!
Speakers and Panelist
1. Dr. Stephanie Teaches, co-founder of Take Heart Conference
Inspirational Speaker, Higher Education Professional, Author, Owner of Delton Center Communications, and Founder of the Ricks Shaw Promise, Dr. Stephanie Teaches, will speak on the want of being Chosen and how to bring your visions into fruition through prayer, fasting, meditation, and affirmation.
2. Carrie Jemii, co-founder of Take Heart Conference
Transformational Speaker, Business Coach - The Care Coach, Owner of I'm Pretty Too! NFP, Founder of Future Investors Scholarship fund, Author, and Hybrid Entrepreneur Business Processional, Carrie Jemii, will be speaking on the Journey of Not Quitting, understanding your purpose is greater than your now!
3. Stephan Speaks Certified Life Coach, Relationship Expert, Speaker, and Author, Stephan Labossiere, also known as Stephan Speaks, is an anointed man on a mission. His mission is to make relationships happier and more fulfilling. Stephan seizes every opportunity to help both men and women overcome the challenges that hinder their relationships. His relationship advice and insight assist countless individuals achieve an authentically amazing life. Stephan empowers millions to take charge of the difficult situations standing in the way of the life and love they seek and to make impactful changes on a daily basis.
4. Dale E. Lott, Jr.
Author, Speaker, and Poet, Dale E. Lott, Jr. is known for helping men and women in understanding the importance in trusting God to find the mate He has for them. He will give the audience a fresh perspective on how to receive what God has for them in spite of mistakes, flaws, and idiosyncrasies.
5. Toya Exnicious
Speaker, Author, Co-Host of The "In Between Sundays" Podcast, Director - Radical Women's Ministry at the World Changers Church International, Toya Exnicious, makes it her mission to give women the confidence to follow their dreams, equip them to walk wisely and overcome hardship, guidance to succeed in any relationship, and permission to live life boldly.
6. Ariel PraterPianist, Saxophonist, Writer and Producer, Ariel Prater, wonderful journey in music began in Marietta, Georgia, at an early age. His group, Ariel Prater & The Notes of Harmony, debut an album entitled I Will Praise Thee Oh Lord in 2009. The album gained national prominence with the single Just Praise being played on radio stations throughout the country.