Description
"If we ruin Europe, we're the dumbest generation to ever exist!" - Klaas Heufer-Umlauf, 2017 (German TV entertainer)
Europe offers us many different privileges that have been taking a backseat over the last few years and thus have led to more and more people and states asking for autonomy. It's time to recall all the advantages of the European Union:
-People are free to chose to travel and work wherever they want within the European Union, with no passport or visa required.
- Because of the European Union, nearly 300 thousand Erasmus students get to study with like-minded people in other countries every year making friends and connections throughout the continent.
- After two world wars, we have understood that nationalism and borders are not actually leading anywhere. Thanks to Europe, we've been living in peace and prosperity for the last 70 years.
- In a world full of challenges, we stand together as Europe and for Europe - for freedom, fairness and tolerance.
- The huge, global challenges like global warming, world hunger and forced migration, the arms race or the consequences of digitization - no single country on earth can tackle these questions alone. This powerful political union of 28 member states with shared values and goals is a strong partner for better solutions.
The perks of having an united Europe go way beyond mobility and digital advatages: it's also about securing rights, granting skill and business opportunities and ensuring a sustainable environment
When did we start taking all these benefits for granted?
Together, we have the ability to remind the citizens of Europe of the advantages and privileges we all enjoy through the European Union. Therefore we need you: your ideas, visions and creativity. Because our Europe is too valuable to leave it to the wrong people.
If you are passionate about Europe, join us in March for the Hackathon "Take Europe to the Hearts". Make use of your skills to create change for the better!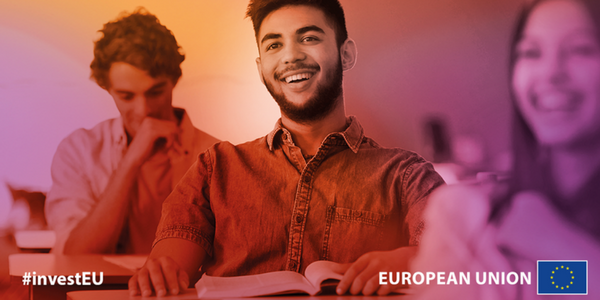 WHAT IS A HACKATHON?
In a hackathon, programmers, designers, entrepreneurs, marketers, hobbyists and creatives work together on an idea for a specific topic over several days.
In this edition, participants have the challenge to create and run a marketing campaign taking Europe to the Hearts. Make it viral, make it big!
HOW DOES IT WORK?
At the beginning of the event, each participant can present her/his idea. So if you already have an exciting idea on how to bring EU to the hearts, you can introduce it. But even if you spontaneously come up with an idea during the idea pitches, always with it! After the idea pitches, each participant can decide on which idea he/she would like to work. Subsequently, teams are formed.
DO I NEED AN IDEA TO PARTICIPATE?
No. Of course, we are happy to bring as many ideas as possible to the event, but of course you can join other teams and work on their ideas.

WHAT DOES IT COST ME?
Our hackathons cost nothing to attendees.

WHAT DO I NEED TO BRING?
A laptop, at best an idea and motivation. The rest you get from us! You will be provided with food and drinks during the two days.
JURY
Sabela Garcia (Next Media Accelerator), Franziska Knoefel (Weischer Media). Marle Schuhmann (Save Democracy Camp), Laura Lewandowski (Mesh Collective), Robert Gierke (Purenessity). John Friedmann (Pulse of Europe), Judith Horchert (Spiegel), Antje Collowald (European Commission), Linda Brack (betahaus), Ina Behrendt (Miami Ad School), Holger Raddatz (pwc).
MENTORS
Daniel Fritz, Jonáš Jančařik, Sibyl Scharrer, Florian Staudt, Irene Broer, Nico Scagliarini, Meinolf Ellers, Sandra Liebich, Mark Jäger, Nicole Foerster
PRIZES
BEST OVERALL: (1.000 €)*
*the winning team will be invited by the European Commission to present their results to the Commission's social media team in Brussels
MOST CREATIVE CAMPAIGN (500 €)
MOST EFFECTIVE CAMPAIGN (500 €)
| EXCLUSIVE OPPORTUNITY TO ATTEND ONLINE MARKETING ROCKSTARS FESTIVAL |
We have 100 tickets for hackathon participants to attend the Expo area and party at OMR 2018, the world famous event taking place on March 22nd and 23rd 2018 in Hamburg.

PROGRAM:
- DAY 1 (20. 03. 2018)
16:30: Registration
17:00: Welcome by nma
17:15: Keynote (sponsors: EC, Spiegel, pwc)
17:30: Orga Infos (+ 5 mins for everyone to write down ideas)
18:00: Ideas-Pitches (max.1 Minute pro Pitch)
19:00: Foods & Drinks
19:30: Team Finding
20:00: Team Registration
From 20:30: Start Working
Open End Working hours
Midnight Snacks
- DAY 2 (21. 03. 2018)
09:00 Breakfast
09:30-13:00 Working hours (+Mentorship)
13:00 Lunch
14:00-19:30 Working hours (+Mentorship)
19:00 Dinner
Open End Working hours
- DAY 3 (22. 03. 2018)
09:00 Breakfast
10:00-13:00 Work
13:00: Lunch
14:00: Preparation final pitches
14:30-16:00 Final Presentations (3min + Jury Q&A)
16:00 Jury- Deliberation
16:30 Announcement winners
from 17:00 - Party at Online Marketing Rockstars
PARTNERS:

Organiser of "Take Europe to the hearts" Hackathon