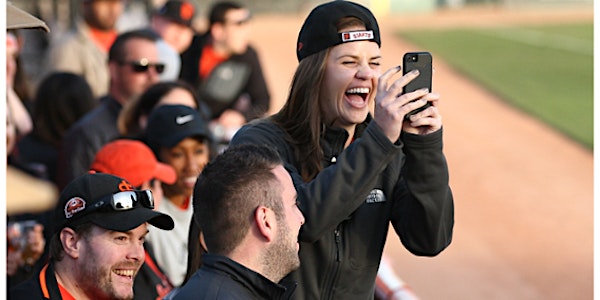 Take Dub Dub Out To The Ballgame
When and where
Location
San Jose Giants Excite Ballpark 588 East Alma Avenue San Jose, CA 95112
Refund Policy
Refunds up to 7 days before event
Description
Avoid the loud bars
Do you like hanging out at loud bars? Yelling at people 2 feet from your face?
Me either. That is no way to discuss the intricacies of Marzipan. But that's what it's like at most of the WWDC parties and the bars downtown.
Hang outside instead
Would you rather sit outside, patio-style, and watch a ballgame while you mingle with other WWDC folks? We've got a spot reserved on down the 3rd baseline.
Ticket comes with a BBQ meal and two beverages (alcoholic or non-alcoholic). We'll have food & beverage attendants to bring us whatever else we want.
** Ticket is required for access to our patio area. Ticket sales for this event end Monday 6/3 **
What should I bring?
Yourself mostly. Food and drink are provided.
A jacket. The game is outside and San Jose can cool off at night.
Money for memorabilia (if desired). We get %15 off San Jose Giants gear
How do I get to the Stadium?
Excite Ballpark is ~2 miles from downtown. A long walk or a short Lyft ride. Use the #DubDubBallgame Hashtag to find others willing to join you. Jaim will probably walk from the convention area so you can always join him.
When should I arrive?
Gates open at 5:30 PDT. The game itself starts at 6:30. Arrive early to check out the rest of the stadium, grab some food and catch infield practice. Other questions answered here: https://www.milb.com/san-jose/ballpark/a-z-guide
How do I pick up my ticket?
We'll have a ticket waiting for you under your name at Will Call.
Any questions contact Jaim at 612-388-0565 or jaim@sharpfivesoftware.com. He'll be the guy in a Minnesota Twins (TC) hat. Come say hi!


The Clicher:
The Giants Catcher, Joey Bart, was the 2nd pick in last year's draft. When he's a star in the big leagues you can tell all your friends you saw him at A ball.
Update: Joey has been injured. He's probably not going to be ready for our game. But the Giants have other highly touted prospects who will be likely be playing in the big leagues in a few years.