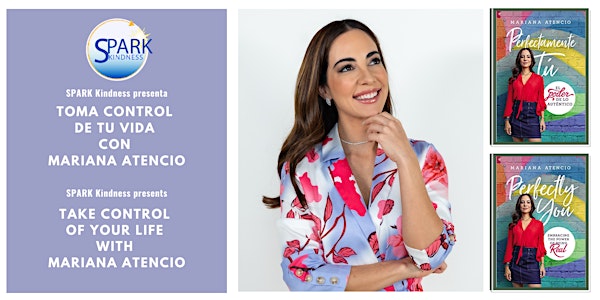 Take CONTROL of Your Life with Mariana Atencio - Toma CONTROL de tu Vida
Toma CONTROL de tu Vida con Mariana Atencio Take CONTROL of Your Life with Mariana Atencio
About this event
La galardonada periodista bilingüe y autora del libro "Perfectamente Tú: EL Poder de los Auténtico", Mariana Atencio te dirá cómo lograr lo q quieres en tu vida a través de la fortaleza interna, la innovación, el auto-control y una fórmula comprobada para aumentar la productividad, el bienestar y el éxito a tu manera.
Este programa se ofrecerá en español con traducción simultánea de ASL e inglés.
Award-winning bilingual journalist and author of Perfectly You: Embracing the Power of Being Real, Mariana Atencio will tell you how to achieve what you want in your life through inner strength, innovation, self-control, and a proven formula to increase productivity, well-being, and success on your own terms. This program will be presented in Spanish with simultaneous ASL and English translation.
This program will be offered in Spanish with simultaneous ASL and English translation.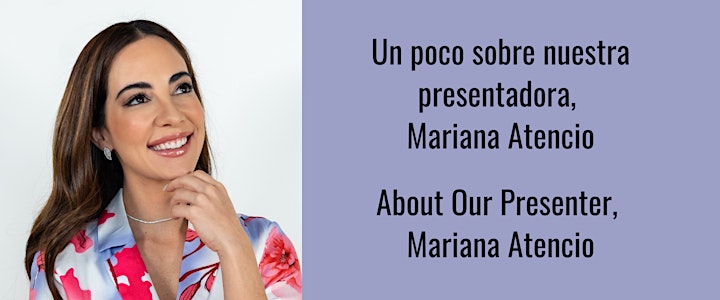 Mariana Atencio es una periodista galardonada, autora y conferencista motivacional. Sus charlas TEDx le han dado la vuelta al mundo con más de 15 millones de vistas y traducidas en 13 idiomas.
Fue la única latina y la primera venezolana en ser talento nacional de NBC y desde entonces co-fundó su propia compañía de producción, 'GoLike', bajo la cual publicó su primer libro en inglés y español, el Amazon best-seller "Perfectamente Tú", también elegido por Audible y AppleBooks.
Mariana Atencio is an award–winning journalist, author and speaker, as well as the co-founder of "GoLike", a premium multimedia production company specialized in motivational content.
Mariana's TEDx Talk on authenticity, "What Makes You Special?", has been seen over 15M times and translated into 13 languages. Her first book, Perfectly You, was an Amazon Best Seller and selected as an Audible Editor's Pick and AppleBooks "Must Listen."
¡Muchas gracias a todos nuestros patrocinadores que ayudan a hacer posible este evento y toda nuestra programación!