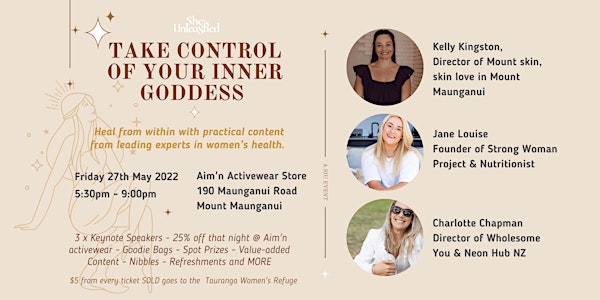 TAKE CONTROL OF YOUR INNER GODDESS!
Location
190 Maunganui Road
190 Maunganui Road
Aim'n Activewear Store
Mount Maunganui, Bay Of Plenty 3116
New Zealand
Refund policy
Contact the organizer to request a refund.
Eventbrite's fee is nonrefundable.
TAKE CONTROL OF YOUR INNER GODDESS! A She Is Unleashed Event
About this event
Take Control Of Your Inner Goddess
Heal from within with practical content from leading experts in women's health
After months of battling Covid restrictions, the SIU community thrilled to announce our next event!
Ever wanted to feel happier and healthier? Or be more efficient and have the energy to take on the world?
It all starts from within…
We delve into all things health and wellness to become more in-tune with our bodies. We can all benefit from knowing 'the how' of our inner workings
Our expert leaders will boost your knowledge and give all the tips and tricks to start taking control and master your success from within.
They will share insight into;
How to supercharge your gut health
Nutritionally packed pantry ideas
Enhance your outer glow with skin treatments, tips and tricks!
Uncover how to use your monthly cycle to your advantage
AND MUCH MORE…
We will open the gates for you to network with some awesome boss babes, absorb life-changing information while enjoying a chit and chat with refreshments and nibbles.
You will be treated with exclusive goodie bags, spot prizes and more.
Our events are made possible by the support of our NZ businesses such as but not limited to, Aim'n Activewear, Mount Skin & Body, Aglow, Good Change Store, Truly Yours NZ...
And incredible sponsors iMAKE Media, POWERS Realty
These events allow the SIU community to give to charity. This event will donate to the Tauranga Woman's Refuge to support their ongoing work to positively impact the lives of women and children across Tauranga.
Now is your time to expand your knowledge, connections and join in on the fun. With limited tickets available, purchase your ticket today!
This event is not to be missed.
MEET OUR SPEAKER - KELLY // Mount Skin
Brief outline of topic / information you will share:
How other systems in our body contribute to how your skin and you look and feel ie hormones & digestive system
Essential rituals for skin health and vitality
The best topical ingredients for glossy and glowing skin
Brief description of your business and its values / mission:
Mount skin has been serving the Mount Maunganui community for 19 years
We are obsessed with skin and wellbeing and want our clients to fall in love with their skin through our mentorship
Our business values are as follows
· We communicate the best way forward for each client.
· We are confident that we can get results for our clients.
· We embrace and celebrate each other's skin successes with their clients.
· Service to our clients is a privilege.
· We care about ourselves, our clients and our community and that is shown through the language we use.
Highlight any milestones or key achievement for you and / or your business:
Westpac business awards - winners people and culture 2020 and finalists in service excellence
20 years in Mount Maunganui next year
Brief description of your background and how you become a boss babe:
I have been a beauty therapist for 20 years and retrained in business psychology 10 years ago. As I graduated I was offered the opportunity to purchase Mount skin and I went for it. I have had the business for 10 years and worked in it for 5 years prior to that. I have grown up with this business, I love and value personal and professional development and have nurtured that in my team, which enables them to serve their clients and community in the best way possible. My belief is that if you are offered an opportunity, say yes and then work out how to do it afterward. Saying yes keeps me busy, fulfilled, contributing and in love with life and its how I ended up speaking here eek
Anything specific you would like to share with the SIU community:
We are taking the business through a full rebrand which we are launching on the day of this event (coincidentally) - new business will be called SELF_ but we dont want to announce name yet. If we could tease that it would be amazing.
___________________________________________________________________________
MEET OUR SPEAKER - JANE // Strong Women Project
Brief outline of topic / information you will share:
Training and nutrition around your monthly cycle. How to use it to your advantage. What we SHOULD'VE been taught in school ;)
Brief description of your business and its values / mission:
Helping women build a life & body they love through non-restrictive nutrition, mindset, and behavior change habits. Or as I like to say, helping driven women quit dieting, and find balance between brilliant & burnout.
Highlight any milestones or key achievement for you and / or your business:
We have coaches across 3 countries, and clients all over the world. Seeing the breakthroughs in clients daily is so rewarding and fulfilling - I genuinely get to talk to people about how they want to improve themselves all day long and it's SO FUN!
Brief description of your background and how you become a boss babe:
I was a business consultant at multiple big 4s in my previous 'life' for 10+ years. Working in change management (behaviour change) as well as crossfit coaching (and competing) for fun. I would hear conversations daily through work and coaching of women hating their bodies, trying all kinds of diets, "trying to be good" (every morning tea, lunch, etc drinks there was a comment) and was like holy f**k people are letting this consume so much of their thoughts, energy and time. And seeing how women's appearances and viewpoint of themselves affected their confidence in every other area of their lives (they were holding themselves back because of their bodies - WHATTTTTT!!!).
Long story short - I knew I could help. Studied nutrition, combined with my background in behaviour change and my own competitive crossfit journey, I started Feel Great Nutrition 5 years ago. In the last year that has now evolved to the Strong Women Project and I f**cking love the change it's having on women and the conversations around themselves and their bodies and to stop playing small and confidently embrace that you're a strong f*cking woman.
Anything specific you would like to share with the SIU community:
You can love yourself and your body whilst still wanting to change it. When we change from a place of love, curiousness and forever learning the journey becomes so much more fun & rewarding than any outcome.
____________________________________________________________________
MEET OUR SPEAKER - CHARLOTTE // Wholesome You | Neon Signs
"My business is centred around health and whole foods – The products are all about the goodness you can see without processed ingredients and nothing hidden. My University studies focused on Science with a major in Human Nutrition so the passion and love for health and wellness- I hope, is what stands out with my business. (I do like wine and coffee a lot though and my motto is definitely balance and moderation )
Highlight any milestones or key achievements for you and/or your business:
Being a finalist in the Massey University Foods Awards – which are a prestigious event in the food industry
Also finalising the process for being accepted as a Foodstuffs Vendor (which is about a 3 to 6 month process) and supplying my first New World (I have about 32 other stockists but Foodstuffs is a biggy)
Brief description of your background and how you become a boss babe: This is hard to write – usually it all comes babbling from my mouth.
After having my first son I thought long and hard about how I could use my nutrition skills for something worthwhile. It began as a Facebook page sharing food ideas for young babies and morphed into something much bigger .
Time passed and I knew when I had my second son that I would get bored sitting on the couch in the newborn days feeding. So I developed a meal planner – basically a 52 page notepad with magnets and Monday to Sunday meal planning gaps and a tear off shopping list. This saved my life when it came to food so I thought it may be able to help others . I started up a website and it grew again from there.
I had worked for 8 years at Nestle and part of my role was cooking/ running our taste testings, writing cookbooks and teaching college aged kids basic nutrition skills so when Mum and I started mucking around making delish food when I was home with Ari (second babe) we had some successes.
Another boring week went by – and don't think I mean bored in being a parent, I mean bored in the brain sense .... it wasn't getting used enough. I decided to do a local Mums in Papamoa Facebook post . I said I'd been making these healthy crackers and did anyone want to buy any? I would deliver for free. That weekend I did 50 packets .... and it took me a long time to talk myself into the fact that I COULD make this a thing. Labelling legalities, nutrition panel creation, product development – all of that I had the skills to do. So did it
Now I have about 32 stores, lots of fun, and quite hectic days. I recently launched another small business where I saw a gap in the market and am in the final stages of a 3rd and final one for this year haha – which is a nutrition supplement business addressing another need area. I cant wait to see what the future holds for these 3 babies 😊
___________________________________________________________________________
Check out one of our events below!