Eating when you're overwhelmed, sad or bored can feel out of control. Join Dietitian Lana on May 28 to take control of emotional eating.
About this Event
Emotional eating leaves us feeling out of control.
It can be for reaching for comfort food at the end of the hard day, using food to distract us when life feels overwhelming or picking at the pantry when we're bored. Sometimes this is normal. But if it feels out of control and you're struggling to stop, maybe something's not right.
On Thursday 28th of May, join Lana Hirth, Accredited Practising Dietitian and Nutritionist, as she walks you through why we emotionally eat, why it feels so hard to stop, and practical tips to regain control of your eating.
This webinar is for you if after a stressful day, eating is your only way to unwind. Or if you feel drawn to the pantry when you're feeling sad or overwhelmed. If you make snacks to break up the monotony of the day, then join us for this live event.
Lana takes a compassionate and refreshing approach to emotional eating, striking the balance between healthy weight management and building healthy habits. She helps you take control of your eating and not let it be all consuming, so you can focus your energy on the more important things in life.
She helps you understand questions such as:
- What is emotional eating? (and am I emotionally eating?)
- Why are you eating?
- What can I do if I can't stop myself from eating the entire pantry?
This interactive webinar is tailored to help you and give you practical tips to take action right away - whether you're just starting or have tried every diet under the sun.
Join us live online during this interactive webinar (with 20 minutes dedicated to answer the questions you ask on the night), or watch the recording online after the event in your own time. Only those who purchase the live webinar will have access to the recording.
Thursday 28th of May 2020, 7:30pm-8:30pm (AEST).
Tickets are $15.00 + booking fee = $16.91 total
Tickets are available for purchase until 2:00pm 28/05/2020.
Tickets include: access to live webinar, access to the recorded webinar (available 1 week after live event) and presentation slides. You will receive a link to the webinar via email on the day of the event.
Any enquiries, please email lana.dietitian@gmail.com.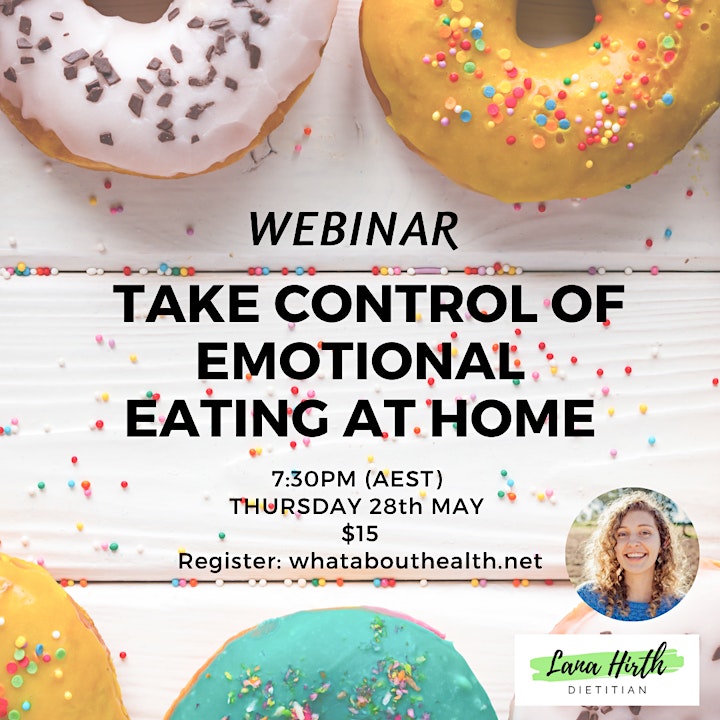 Date and Time
Location
Refund Policy