Take Back the Night 2013: Volunteer Registration!

Sunday, April 21, 2013 from 1:00 PM to 4:00 PM (EDT)
Event Details

We are looking for volunteers to work during the following shifts for Take Back the Night:

Hospitality Table, Afternoon Shift:  1:00-5:00 PM
Hospitality Table, Evening Shift: 5:00-9:00 PM 
Volunteers are in charge of setting up the table, replenishing food, keeping food cool and providing drinks to volunteers. They will be in charge of the plates, forks, napkins. They will make sure the butterfly garden has water and cookies. They will also bring out water to the resource fair participants.
Clothesline Project: 1:00-3:30 PM
Volunteers will be in charge of hanging and displaying shirts for the clothesline project. Volunteers will help and assist the leaders with all Clothesline Project duties.
Decorations: 1:00-3:30 PM
Volunteers will work with Wendy to decorate the park with luminaries, butterflies, and all other decorations.
Resource Fair: 2:30-6:00 PM
Volunteers will greet and help Resource Fair participants and assist setting up tables. When new participants arrive, have the leaders check-in the participants. Pass out resource fair bags and water.
Registration Table/Programs: 3:00-6:00 PM
Volunteers will sit at one of the two registration tables. They will pass out awareness pins, programs, pledge inserts, and awareness bracelets. They will capture e-mails and hand out information about Crisis Center Services, Task Force events/meetings, and survivor services.
Pre-Event Set-Up: 3:00-5:00 PM
Assist with general set-up.
Post-Event Breakdown: 8:00-9:00 PM
Assist with general breakdown after ceremony.
Take Back the Night is an interactive event that creates awareness, empowers survivors, and educates the community about sexual violence. 

4:00 PM *Resource Fair *Clothesline Project * Music Fest
6:00 PM *Ceremony *Special Service Award * Pledge Against Violence Men's Pledge 
7:00 PM* Empowerment March *Candlelight Vigil *Survivor Speak-Out

Special Speakers, Candlelight Vigil, Empowerment March, Pledge Against Violence, Sharing Hope Survivor Speakout, Live Music and tons more!

Survivors of rape, incest, domestic violence, child abuse and human trafficking are all invited to share their journey's of help, hope and healing. Raise your voice and share your empowerment.

Wear teal are raise your VOICE against sexual violence and join us for this AMAZING event!

Over 85 organizations participating!
Take Back the Night is presented by the Crisis Center of Tampa Bay 

In Collaboration with: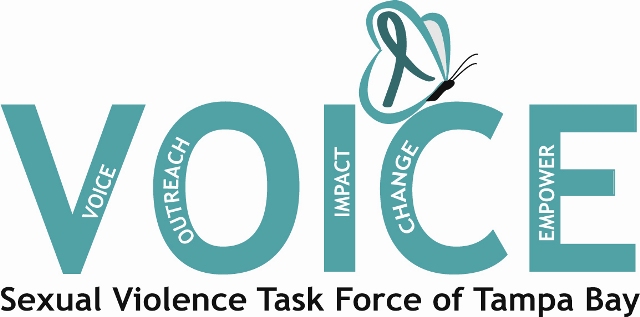 For More information please contact:
Liz Iaconetti, Co-Chair Take Back the Night at  myagentliz@verizon.net
or Pat Crawford,  Co-Chair Take Back the Night at (813) 391-5139, pcrawford26.pc@gmail.com
When & Where

Curtis Hixon Park
600 N Ashley Drive
Tampa, FL


Sunday, April 21, 2013 from 1:00 PM to 4:00 PM (EDT)
Add to my calendar
Organizer
Crisis Center of Tampa Bay
At the Crisis Center of Tampa Bay we offer help, hope and healing to all people experiencing life's problems and challenges, big and small. We are located in Tampa, Florida, and provide services throughout the State and beyond.

We can help you deal with the devastating trauma of sexual assault or abuse, domestic violence, financial distress, substance abuse, medical emergency, suicidal thoughts, emotional or situational problems.

We are here 24 hours a day, 365 days a year.

Dial 2-1-1 where you will receive free, confidential crisis counseling, along with referrals to a Crisis Center service or to over 4,600 other community resources. 
Take Back the Night 2013: Volunteer Registration!