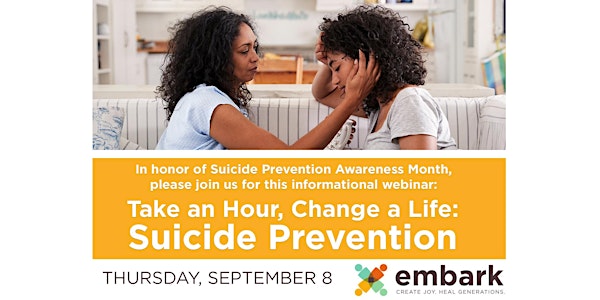 Take an Hour, Change a Life: Suicide Prevention
For Suicide Prevention Awareness Month, join us for an informational panel discussion: "Take an Hour, Change a Life: Suicide Prevention"
About this event
Suicide remains one of the leading causes of death in the United States, and one of the world's most pressing health challenges. This sobering reality is a call to action: as a mental health professional, you are an essential piece in the continuum of care, and you make a difference.
By the end of this webinar, you'll be able to:
1. Identify factors contributing to risk of suicide in youth.
2. Identify evidence-based suicide prevention, including epidemiology, risk assessment, safety planning, and therapeutic interventions.
3. Distinguish between suicide prevention and intervention.
________________________________________________
Level (Intermediate)
Target Audience: This webinar is best suited for mental health professionals, members of behavioral health organizations, school social workers, counselors, psychologists, case managers, medical professionals, parents and other stakeholders working to improve the state mental health in their families and communities.
________________________________________________
This webinar will be recorded and available on the Embark Behavioral Health YouTube Channel here: https://bit.ly/3uiwmtV