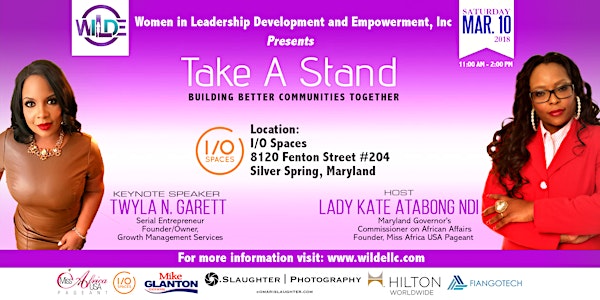 Take A Stand: Building Better Communities Together
When and where
Location
I/O Spaces 8120 Fenton Street #204 Silver Spring, MD 20910
Description
Take A Stand: Building Better Communities Together
In March 2018, we will join millions around the world to continue celebrating the contributions and achievements of women globally. WILDE's Theme for International Women's Day is "Take A Stand: Let's Build Better Communities Together!"
In a world where more people are dying from gunshots than wars, one where injustice and unfairness are becoming rampant, where women and minorities still receive unequal pay in some industries and sexual assault/harassment is the hot topic on mainstream media, it is time we come together as a community and discuss these issues and promote positivity by TAKING A STAND against these ills of society.
STOP Abuse. STOP Violence. STOP Sexual Harassment. STOP Discrimination.
The "Take A Stand" campaign was launched in November 2017 by Linda Arrey, as a platform that brings together community members, leaders and legislators to discuss issues affecting our communities and come up with possible solutions.
Join us for Brunch and captivating Conversations
Dress Code: Business Casual / Take A Stand T-Shirt is Recommended
Purchase your T-Shirt here http://wildellc.com/index.php/shop/