Take a Bite Out of Trafficking

Tuesday, November 2, 2010 from 5:45 PM to 10:00 PM (EDT)
Event Details
Take a Bite Out of Trafficking  
              On Tuesday, November 2nd, 2010, restaurants, chefs and businesses located north of Boston will join together in support of Anuradha Koirala, one of CNN's "Top Ten Heroes of 2010" nominees.  
               Anuradha Koirala's, "Maiti Nepal," is a non-profit organization that combats the sex trafficking of Nepali women and children.
              The November 2nd fundraiser "Take a Bite Out of Trafficking," will be an evening filled with special events including culinary samplings from some of the area's most recognized chefs, an exclusive movie screening and an auction featuring a variety items including: hotel/dinner packages, endless gift certificates to spas & restaurants, Red Sox tickets, fine wines, artwork, portrait sessions by Kiki Larouge Photography, and tickets to Fashion Designer Prabal Gurung's New York City Fashion Week show in Feb 2011.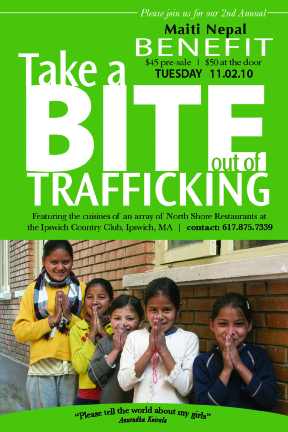 Held at the Ipswich Country Club, the evening will kick off at 5:45PM with a special chefs tasting featuring samplings from various restaurants including: 62 Restaurant & Wine Bar (Salem), Tryst (Beverly), The Blue Ox (Lynn), Pellana (Peabody), 15 Walnut (Hamilton), Shea's (Essex), Ipswich Country Club (Ipswich), Salem Waterfront Hotel (Salem), 9 Elm (Danvers), American BBQ (Rowley & Beverly), Mr. India (Newburyport), Ithaki (Ipswich), Bradford Tavern (formerly Sydney & Hamptons in Rowley) and The Green Land Cafe (Salem).
             At 7:40PM the lights will go down as guests watch an exclusive screening of the Emmy nominated movie "The Day My God Died," a 50 minute documentary produced and narrated by Tim Robbins and Winona Ryder. Immediately following the screening, there will be a brief Q & A and guests will then have a chance to bid and win on a variety of auction and raffle items while enjoying coffee and desserts donated by Cakes by Erin. The Ipswich Country Club will be decorated the night of the event by floral arrangements donated by Flowers by Steve (Andover).
              The event, now in its second year, was created by photographer Kiki Larouge who has traveled to the region and was moved by what she saw.
           "My passion for raising awareness and funds for the fight against the atrocity of human trafficking is fueled by Maiti Nepal's fearless and inspirational founder, Anuradha Koirala. Her NGO is the only resource of its kind for the defenseless women and children in the tiny, impoverished nation nestled in the Himalayas. The average age of the girls being sold is 9 to 13. Maiti Nepal, with its border surveillance teams, stops an average of four to five girls a day from waking up in to the unthinkable nightmare of forced prostitution."
             All proceeds from the event will go to Maiti Nepal via their US non-profit Friends of Maiti Nepal. Founded 17 years ago in the home of Anuradha Koirala, it is the only resource of its kind that helps all the women and children of Nepal in need. Ms. Koirala is currently nominated as one of CNN's TOP TEN Heroes of 2010. Donations will benefit women and girls from Nepal to India in the form of medical emergency care, wellness visits, vocational training and basic housing needs.
            From those participating similar reaction sets the tone for the evening "We're honored to be a part of this event, and to help raise funds for such a serious issue," said Antonio Bettencourt, Executive Chef/ Owner of 62 Restaurant & Wine Bar in Salem, MA.
WHEN: Tuesday, November 2nd, 2010 beginning at 5:45PM.
Schedule of Events
Doors Open at 5:45PM
Tastings until 7:30PM
Screening of the Emmy nominated movie "The Day My God Died" (produced by Winona Ryder &
Tim Robbins) at 7:40 followed by a Q & A.
The auction will be held following the screening at approximately 8:45PM
WHERE: Ipswich Country Club, 6 Country Club Way, Ipswich, MA 
INFO:$45 presale, $50 at the door. Cash bar. All proceeds of event go directly to Maiti Nepal via their US non-profit Friends of Maiti Nepal 501 (c)(3). Please call Kerry "Kiki" Hook at 617.875.7339 for more information.
When & Where

Ipswich, 01938


Tuesday, November 2, 2010 from 5:45 PM to 10:00 PM (EDT)
Add to my calendar