Taizé Prayer Service

Friday, September 16, 2016 from 7:30 PM to 9:00 PM (CDT)
Event Details
Taizé is a Christian ecumenical prayer service that originated in France in the 1940s and is designed to achieve a contemplative state and Christian unity through participation in song, scripture and silent prayer. This service helps to quiet the mind and open your heart in the presence of God. Taizé prayer uses short, simple verses and melodies that are repeated, for ease of participation. Everyone is invited to light candles near the end of the service to unite their intentions for the world. Light refreshments follow the service.
People of all faiths are welcome.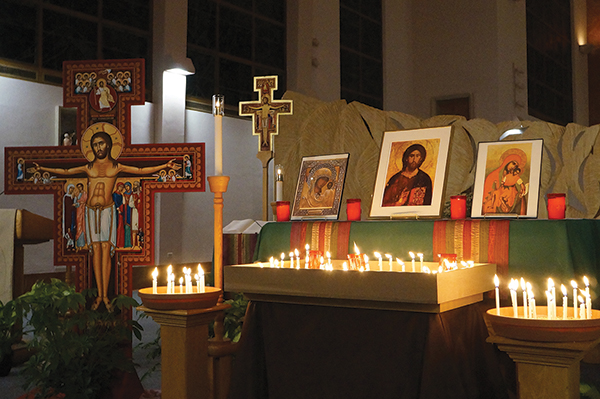 Organizer
Tau Center
Established in 2005 by the Wheaton Franciscans, who live intentionally as a presence of blessing in our world, the Tau Center is committed to the transformation of our world by providing diverse opportunities that support personal growth and spiritual development. We offer a sacred space to assist individuals on their own spiritual journey – whether it is to reconnect with their inner-spirit or whether they are seeking a deeper relationship with God and the world around them. Our programs encourage an awakening of the spirit that leads to hope, healing, peace and transformation.