Description
Sawadee Ka! Taiwan Startup Stadium (TSS for short), True Digital Park, Krungsri Finnovate, and Singha Ventures are partnering for the first time to bring Taiwan and Thailand's startup scenes together in Bangkok! We are eager to show off 6 Taiwanese and 4 Thai up-and-coming startups and their cutting-edge technologies, ranging from smart devices, to next-gen social platforms, to artificial intelligence engines.
Whether you are an investor, a tech geek, or just a curious observe of the startup industry, you're all welcome! Rock with us on June 21 and learn more startup ecosystem and investment opportunities in Taiwan and Thailand. See you there!
PS: If you are a Thai startup and would like a chance to pitch, apply now HERE! Only 4 slots available! We will get back to you shortly to let you know if you're accepted.
---
SCHEDULE FOR THE DAY:
6:00-6:30 | Sign in & Networking

6:30-6:40 | TSS and TRUE Digital Park Opening

6:40-7:30 | Startup Pitches

7:30-8:00 | Panel: How can startups scceed in Southeast Asia, especially in Thailand?

8:00-9:00 | Startup Demos & Networking
---
JUDGES AND PANELISTS (More to be announced!):
Frankie Shum | CFO, Ardent Capital (merged with Wavemaker Partners)

Holly Harrington | General Manager, Taiwan Startup Stadium

Kampanat Vimolnoht | Head of VC Investment, Krungsri Finnovate

Woradon Laohapand | VC Investment Manager, Singha Ventures

Yee Hoong Chow | Investment Analyst, Monk's Hill Ventures
---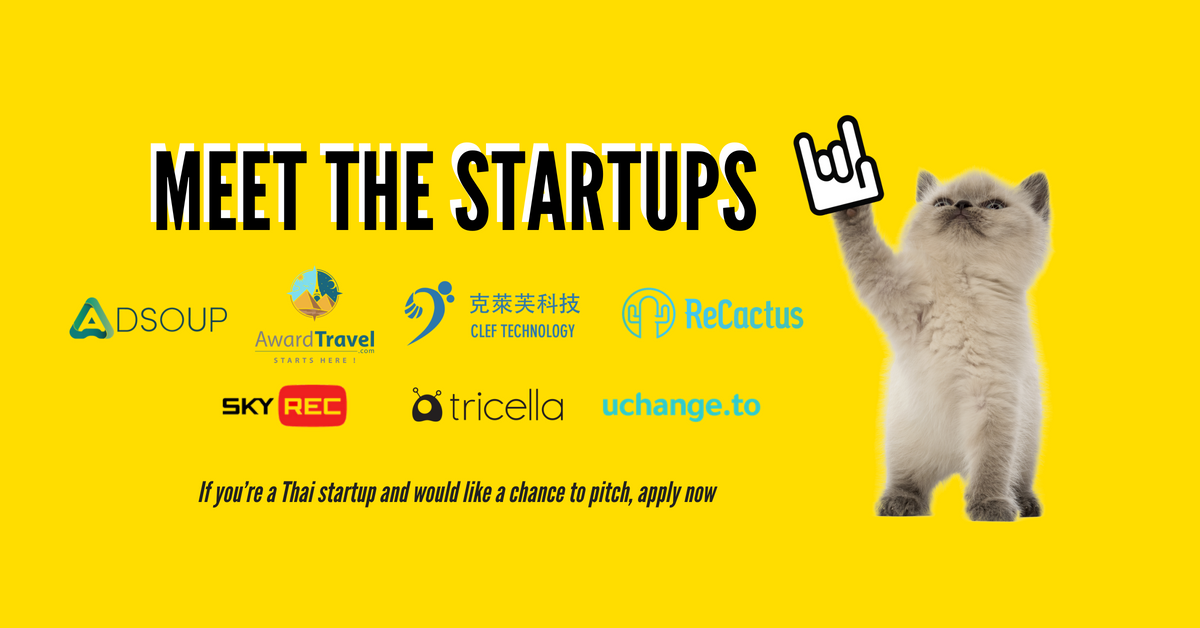 The Taiwan Gang:
AwardTravel connects hotel, airline, and restaurant brands with travel experts to create targeted promotional content and maximize sales conversions.
CLEF Technology uses acoustic processing techniques and advanced algorithms to detect and send notifications about pipeline leakages even before they happen.
ReCactus is a next-gen video platform that gives brands and entertainers new and exciting ways to engage viewers.
SkyREC helps in-store retailers better understand shopper behavior and optimizes their operations by its AI platform.
Tricella Smart Pillbox increases medication adherence by notifying caregivers or loved ones of missed doses.

UChangeTo helps international travelers rid themselves of leftover cash by exchanging it for digital currency that can be deposited to numerous digital wallets, converted into points, or donated to international charities.
The Thailand Gang (More to come!):
AdSoup is a unified inbox and CRM for sales teams who use messaging in their sales conversations.
FairDee reduces insurance overclaiming by partnering with insurance companies to provide cashback to safe drivers.
Hungry Hub is an online platform that helps restaurants earn more revenue by offering exclusive fixed-price dining packages.