Description
Our next event is held in partnership with, and to benefit, Real Food Real Stories, a San Francisco-based organization that seeks to humanize the food system through monthly gatherings featuring powerful personal stories from the Bay Area food community.

We head to Taiwan - a small island (~14,000 square miles) off the southeastern coast of mainland China similar in shape to the sweet potato. Our two hosts, Pei-Ru Ko and Henry Hsu, have developed a menu that tells the story of their shared origins and unique trajectories as immigrants and as Taiwanese-Americans.

Pei-Ru is the Founder and Executive Director of Real Food Real Stories. Raised in Taipei, Taiwan's capital city, she came to the US at the age of 14, seeking a different educational experience. Returning to Taiwan after college, she developed an autoimmune condition that she sought to heal through the power of food. She returned to the Bay Area to study the therapeutic applications of food and nutrition consulting at Bauman College, and in the process, connected with the community of Bay Area producers and purveyors that led her to form Real Food Real Stories in the summer of 2014.

Learn more about Pei-Ru's story on our blog.

Henry is a child of Taiwanese immigrants who settled in Houston, Texas in the '70s. In his telling, his parents chose Texas because they sought to live in a climate similar to Taiwan's subtropics. Currently working at Hodo Foods, the Oakland-based purveyor of organic, non-GMO tofu and tofu products, Henry has worn many hats. He's worked in the fields of public health, architecture, fashion, furniture design and international development, cooking and entertaining at every step of the way. While living in Ecuador in 2007 he found himself in a new place with a scarcity of good Asian food. He initially sold homemade dumplings to friends who were interested and eventually went all in and ran a dumpling business, offering dishes from his upbringing that employed local ingredients and Texan flavors.
Learn more about Henry's story on our blog.


---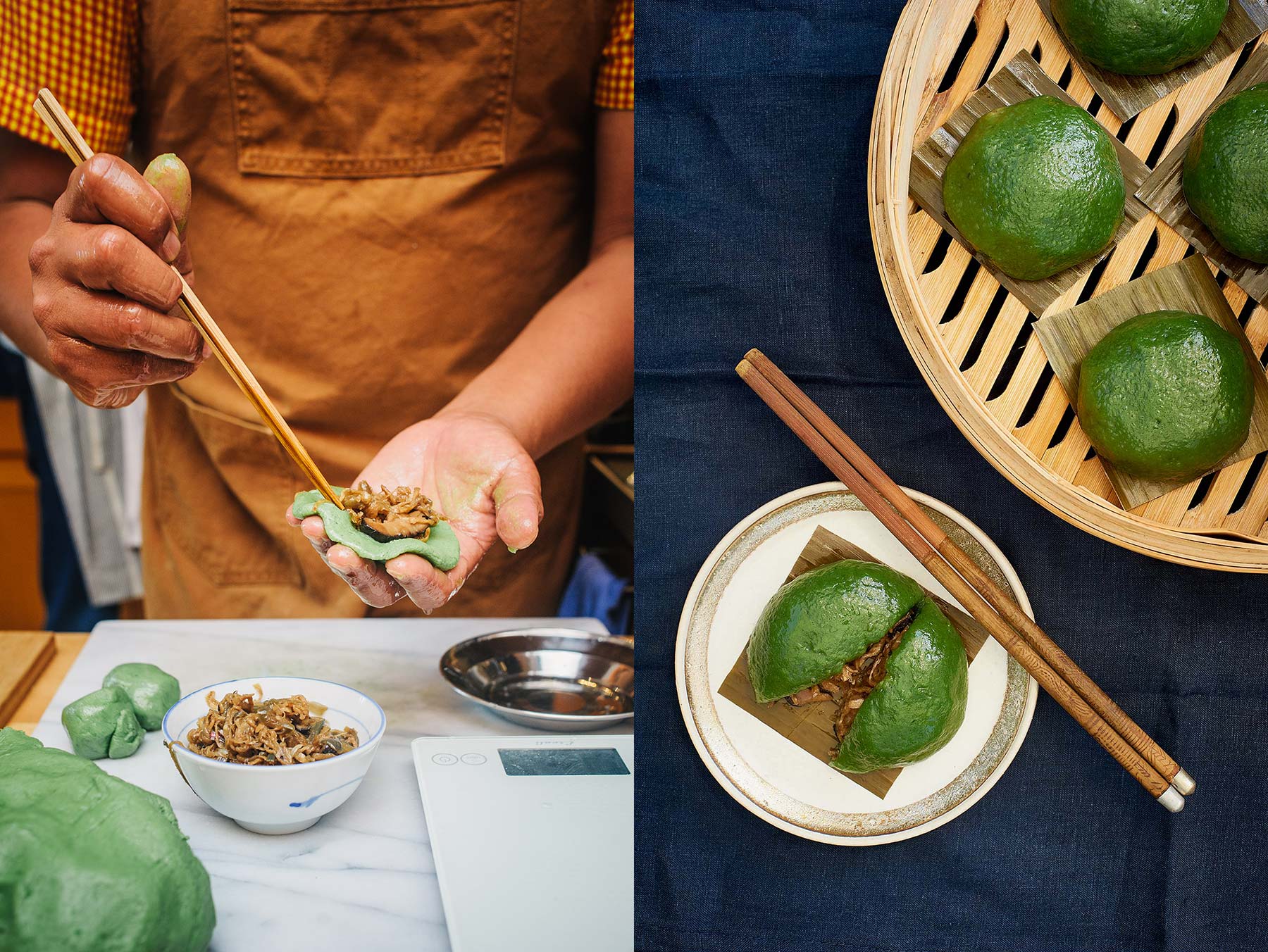 "We want to tell the story that food is not only cultural, personal and physical nourishment but also the best way to share the stories that come from oneself. When a diner knows where the maker is coming from and what their intent is, and it is embodied in this tangible, shareable way, that exchange can be a positive and powerful connection for everyone at the table."

MENU*:
Starters:

涼拌黃瓜 // Stacked Cucumbers (Vegan, GF)
Served in the style of Din Tai Fung, Taiwan's most famous culinary brand export.

八角花生 // Boiled Peanuts in shell with Star Anise and Garlic (Vegan, GF)
Boiled peanuts in the streets; reminders of youth in Taiwan.

潤餅 // Lumpia (Vegan and non-Vegan options)
A mainstay of Taiwanese gatherings.


Mains:
薺菜水餃 // Spinach & Pork Dumpling
Inspired by Pei-Ru's mother's spinach dumplings.

豆腐水餃 // Tofu Herb Dumpling (Vegan)
Henry used to hate tofu growing up, but now, working for a local tofu maker, he makes these tofu dumplings with a California twist.

草仔粿 // Green Jade Dumpling (Vegan, GF)
Featuring shredded and dehydrated daikon and mushrooms harvested by Henry's family in Taiwan.

台灣牛肉麵 // Taiwanese Beef Noodle Soup
The National Dish of Taiwan - a very nostalgic and important dish for both Pei-Ru and Henry.

油飯 // Oil Rice (GF; Vegan options available)
The first Taiwanese dish that Henry learnt from his mom when he left for college.


Dessert:
剉冰 // Shaved Ice with Sweet Potato Mochi, Mung Beans and Boiled Gingery Peanuts (Vegan, GF)
Classic Taiwanese dessert. Sweet potato harkens to the Taiwanese - the country is shaped like one and its people enjoy eating this root vegetable.


---

BENEFICIARY:
Proceeds from this meal will benefit Real Food Real Stories (RFRS), which is on a mission to humanize the food system for a connected, sustainable and just tomorrow. RFRS uplifts powerful personal stories from the Bay Area food community and curates live monthly gatherings to foster a food culture around authentic sharing, generous listening, and a connection to our shared humanity.

You can learn more about RFRS and their monthly gatherings at: https://www.realfoodrealstories.org/


---
FAQs
What is your beverage policy for this event?

Tapestry Suppers will provide light refreshments like still and sparkling water, coffee and teas. Guests are encouraged to BYO if you would like to enjoy wine with your meal.

Is my ticket transferable?
Yes. If you are unable to attend an event you are welcome to pass this along to a friend who can take your place. Please send a note to hello@tapestrysuppers.org informing us of this change.

What's the refund policy?
For cancellations up to a week (7 days) prior to event date: 100% refund minus $3 cancellation fee.
For cancellations up to 3 days prior to event date: 50% refund minus cancellation fee.
No refunds for cancellations made less than 3 days prior to the event.

How can I contact the organizer with any questions?
Send an email to: hello@tapestrysuppers.org.