TAITA's Aug 24th Hiking & Lunch: Change Events => Lunch Only

Saturday, August 24, 2019 from 10:00 AM to 12:30 PM (PDT)
Event Details
[TAITA's Hiking & Lunch: Change Events => Lunch Only]
https://www.facebook.com/events/500264790741506/
There was a news regarding the Mountain Lion activity spotted at Rancho San Antonio Preserve, most of the trail was closed including High Meadow. For safety concerns, we decided to cancel our Hiking event on August 24th, Saturday.
We apologize for the inconvenience.
However, we will still be holding our lunch event on Saturday. So for the attendees that signed up for lunch, feel free to join us on Saturday, August 24th, 12:00 pm at Golden Palace Restaurant.
NOTE: We are moving ahead our lunch time to 12:00.
Golden Palace Restaurant
Address: 1146 S De Anza Blvd, San Jose, CA 95129
Parking is also available at the H Mart plaza or Music Tunnel KTV plaza.
See you then.
Reference:
https://bit.ly/2ZhfR3W
https://www.openspace.org/preserves/rancho-san-antonio
===================================================================

We will meet at the South Bay Hiking Meetup point at 10am as shown on the
red circle in the below picture. Parking is free here, the blue square is where you can park your car.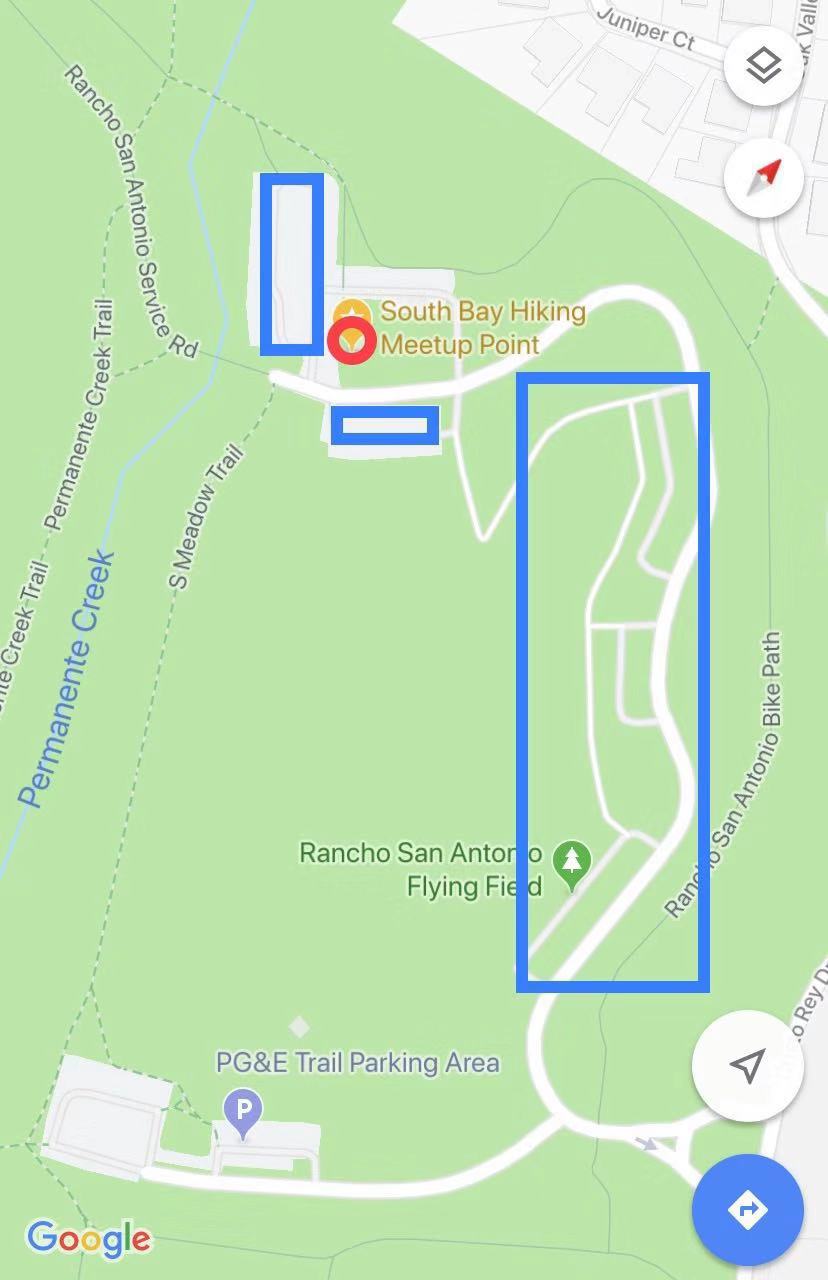 We will have lunch at Golden Palace Restaurant at 13:00. If you want to just come for lunch, please just sign up for the lunch ticket on Eventbrite (The ticket on the eventbrite is just for the reservation purpose only, and the payment will be paid at resturant). We hope to see you all soon!
Lunch:
Golden Palace Restaurant
Address: 1146 S De Anza Blvd, San Jose, CA 95129
Parking is also avalialbe at the H Mart plaza or Music Tunnel KTV plaza.

Contact Person 
Mike Huang, enjoyincs@gmail.com, 949-5729191
Terrace Huang, terence304@gmail.com, 347-2055925
Jason Wu, jason770301@hotmail.com, 669-3508880
-----------------------------------------------------------------------------------------
報名參加者,必須同意以下免責聲明 (* 請仔細閱讀,如不同恴,請勿報名 *):
矽谷產業科技協會是非營利的社團,活動場地主人,主辦人,主持人,及所有參與活動的校友及好朋友們,都是基於友好互助的出發點來共同參與。報名參加活動,等於認同免責條款,活動現場將不再簽署免責條款,也不提供現場保險。請參與活動的朋友,共同協助,盡力維護所有參與者的安全。如果您必須攜帶行動不便的家人和幼童一起參加,請自行負責看護好同行家人的安全,並遵守活動會場的秩序。
Disclaimer:
Pariticipant will be required to agree with the below waiver.
As most of the TAITA's activities are hosted all voluntarily by TAITA's members and friends. We will not be responsibile for any insurance for injuries, damages, etc that might occur during the event. (Although it's unlikely to happen) We as a hosts will try our best to provide the safest envrionment for participant to enjoy this event. If you are planning to bring small kids, infants, seniors to join the event, please make sure ensure their safety throughout the event.
When & Where

Rancho San Antonio Preserve
8WM7+25
Cupertino, CA 95014


Saturday, August 24, 2019 from 10:00 AM to 12:30 PM (PDT)
Add to my calendar
Organizer
Taiwanese American Industrial Technology Association (TAITA) is a networking platform for Taiwanese and Taiwanese American professionals in the Bay Area. We organize monthly seminars and social events. The seminars usually cover topics such as entrepreneurship, career development, and personal finances. We also host large annual events including Annual Conference, US Taiwan Biomedical Engineering Forum (UTBEF), Summer BBQ, etc.