Description
我們準備了各式各樣的桌遊,也有熱心的朋友帶領新手們同歡!
本活動不提供飲料(場地有飲水機)。請大家盡情的時候也愛惜桌遊
Meet new friends and enjoy board games! We will prepare a variety of board games, and welcome both beginners and experienced players to join.

Hosts: Wendy Chi, Terence Huang, George Hsieh


台美產業科技協會夏至桌遊派對
TAITA Summer Board Game Party

日期:2019年6月15日(星期六)下午1:30至5:30
地點:迦南台灣基督教會(4405 Fortran Ct, San Jose, CA)團契廳,請由一號門進出
Date: 6/15/19 (Saturday) 1:30 PM ~ 5:30 PM
Location: Canaan Taiwanese Christian Church (4405 Fortran Ct, San Jose CA), Door #1 (see map below)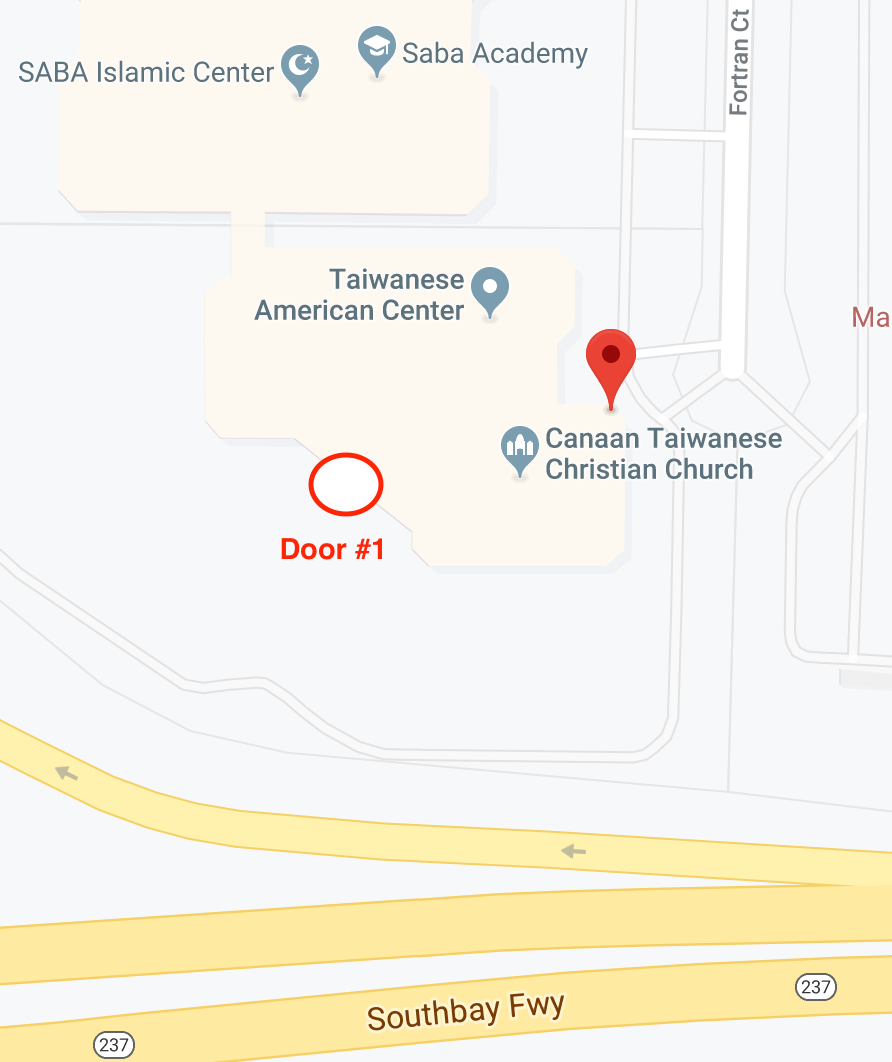 [Event Update] 6/15 桌遊活動已滿,我們將增加十個名額,也徵帶遊戲者及教學者(請在FB留言或私訊主辦人)。
We are adding 10 more tickets to the 6/15 board game event. If there is any volunteer who will bring his or her own board game and is willing to teach new players, please contact event hosts. Below is the tentative list of board games that our volunteers plan to host.
目前預計可能會出場的遊戲列表(視情況調整):因為有入門玩家及時間限制所以會以輕到中度桌遊為主. 請大家愛惜遊戲, 保護配件並於遊戲完協助清點及收拾整理. 歡迎自備遊戲及湊團教學. 璀璨寶石 (Splendor) 機密代號 (Codenames) 鐵道任務 (Ticket to Ride) 運轉潮汐 (Turn the Tide) 花磚物語 (Azul) 估估畫畫 (ALIAS) 星杯傳說 (ASTERIATED GRAIL) 卡坦島 (Settler) 格格不入立體版 (Rumis 3D) 妙語說書人 (Dixit) 企鵝棋 (Hey, That's My Fish) 要奶油還是派 (Piece o' Cake) 袋中菲力貓 (Felix) 壽司走走 (Sushi Go!) 形色棋 (Qwirkle)
--------------------------------------
報名參加者,必須同意以下免責聲明 (* 請仔細閱讀,如不同恴,請勿報名 *):

矽谷產業科技協會是非營利的社團,活動場地主人,主辦人,主持人,及所有參與活動的校友及好朋友們,都是基於友好互助的出發點來共同參與。報名參加活動,等於認同免責條款,活動現場將不再簽署免責條款,也不提供現場保險。請參與活動的朋友,共同協助,盡力維護所有參與者的安全。如果您必須攜帶行動不便的家人和幼童一起參加,請自行負責看護好同行家人的安全,並尊守活動會場的秩序。
Disclaimer:
Pariticipant will be required to agree with the below waiver.
As most of the TAITA's activities are hosted all voluntarily by TAITA's member and friends. We will not be reponsibile for any insurance for injuries, damages, etc that might occur during the event. (Although it's unlikely to happen) We as a hosts will try our best to provide the safest envrionment for participant to enjoy this event. If you are planning to bring small kids, infants, seniors to join the event, please make sure ensure their safety throughout the event.