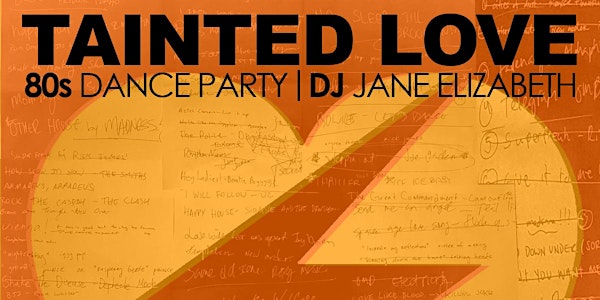 Tainted Love 80's Dance Party
Tainted Love 80's Dance Party • Friday, October 21 • 10 pm
When and where
Location
The Bell House 149 7th Street (Between 2nd and 3rd Ave) Brooklyn, NY 11215
About this event
Soft Cell's pioneering 1981 cover of the Northern Soul classic, "Tainted Love," is the inspiration for this awesome 80s dance party. Building on a solid foundation of New Wave, we'll dig deeper into the catalog of massive hits and overlooked misses from the late 70s through the early 90s - pivotal years in musical history that blurred the lines between Analog and Digital, Disco and Synthpop, Funk and Hip-Hop. A time when Alternative was called Post-Punk, Indie actually meant independent, and Throbbing Gristle's "Hot on the Heels of Love" surely could have been alongside Blondie's "Heart of Glass" on the charts...with today's perspective. Other passions include CBGB-era New York, Batcave-era London - Punk Rock, Glam Rock, Kraut Rock, Girl Rock, Dad Rock, Rockabilly, Ska, Machine Soul, Blue-Eyed Soul, Darkwave, Coldwave - plus some guilty pleasures in the (strictly) Old-School Rap department.
Tainted Love happens every month at The Bell House, 149 7th St, Brooklyn. Hosted by DJ Jane Elizabeth (Tesco USA, Stylus NYC, Breakfast Club Philly 2010-2015).
10pm, Ages 21+, Free!
10:00pm
FREE / IN THE FRONT LOUNGE
Ages 21+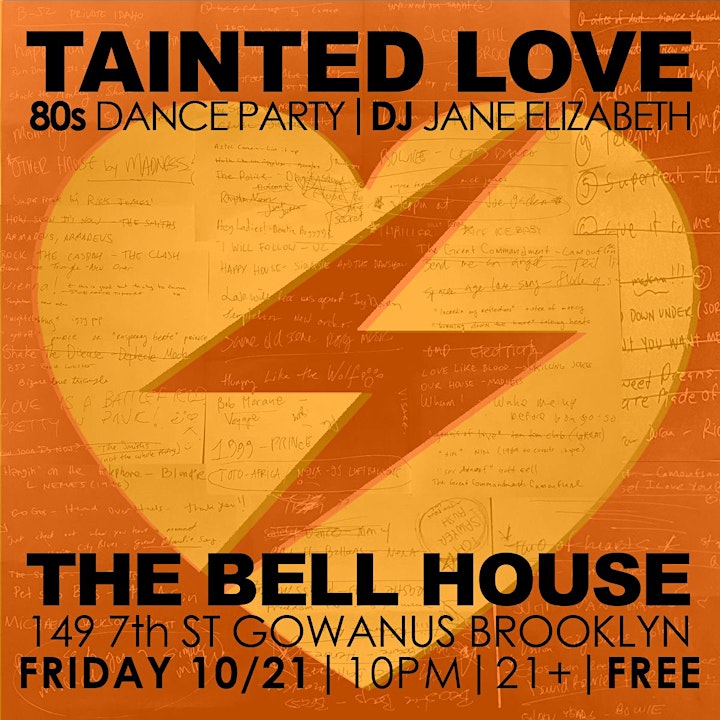 IMPORTANT:
This event is not socially distanced. All attendees must have proof of full COVID-19 vaccination to attend the event. Please download and register with NY's Excelsior Pass. You must present this at the door to verify your vaccination status. If you are visiting from out of town or can not access the Excelsior Pass app, you must present your vaccination card at check-in. NAME ON VACCINATION CARD MUST MATCH YOUR ID.
Full Vaccination is 14 days after your second dose of the Pfizer-BioNtech or Moderna COVID-19 vaccine or at least 14 days after your single dose of the Johnson & Johnson's COVID-19 vaccine