Sales Have Ended
Registrations are closed
Arrive at the Escalon Trailhead at 8:30 am with your bike, helmet and signed waiver, which is available at http://www.marinbike.org/Events/DirtFondo/LAB_child_waiver_MCBC.pdf
Sales Have Ended
Registrations are closed
Arrive at the Escalon Trailhead at 8:30 am with your bike, helmet and signed waiver, which is available at http://www.marinbike.org/Events/DirtFondo/LAB_child_waiver_MCBC.pdf
Description
Marin County Bicycle Coalition, Horse Hill Stables, Marin Horse Council and Marin County Open Space District are partnering on a day of education and stewardship in the Camino Alto Open Space Preserve in Mill Valley.
From 8:30 am to 10:30 am we will be putting the finishing touches on a new multiuse connector trail and decommissioning redundant social trails near Octopus Junction and the water tanks (see map below). From 10:30 am to 12:30 pm MCBC and Horse Hill Stables will present a Tails and Tires workshop at the water tanks (white area near center of map).
Participants will learn:
Horse psychology - how they see and react to approaching objects

How to safely pass a horse

Saddle time on a horse

Interactive bike/horse exercises on the trail

Lessons on basic trail etiquette

History of land conservation, featuring Nona Dennis of Marin Conservation League
Lunch will be provided after the workshop courtesy of Marin County Bicycle Coalition.
ATTENTION STUDENTS: This workshop is good for 4 hours of community service!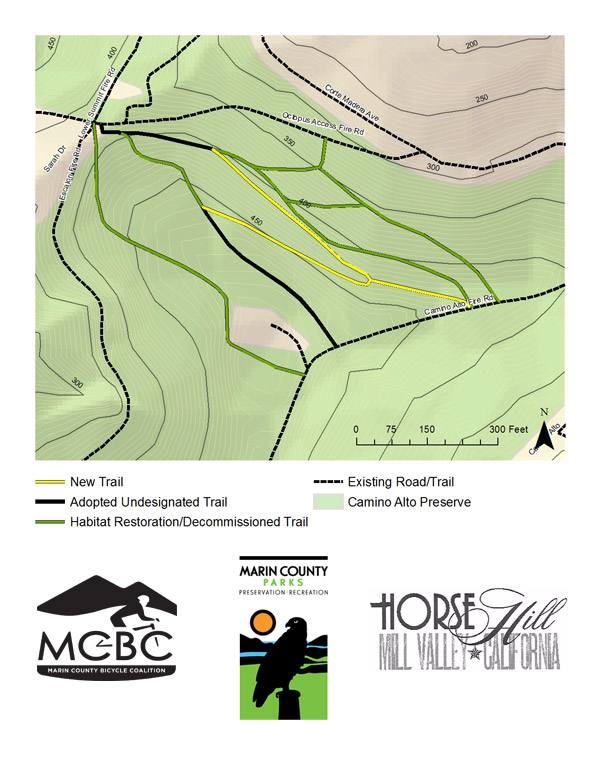 The event is allso supported by Trail Partners, a collabrative of Marin Conservation League, Marin Horse Council and MCBC.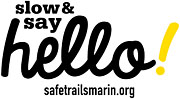 Directions: Driving from E. Blithedale, turn East on Camino Alto and turn left on Overhill. Near top, park at intersection of Overhill and Escalon. There will be "Open Space" signs along the trail directing foot traffic to the staging area at the water tanks on the Camino Alto trail.